Buying Tips To Choose Best Outdoor Floor Tiles
If you neglect or give too little attention to outdoor floor tiles compared to indoor floor tiles, you are making a big mistake! The outdoor area, just like the indoor area, should be appealing and vibrant. It is expected that you value and prioritise outdoor floor tiles in the same way that you value and prioritize every other component of your home's design.
However, since there are so many options for outdoor tiles, we decided to help you and make your task easier by providing some tips on choosing the best porcelain floor tiles for outdoors as these are the ideal choice for your terraces, balconies, porch, and parking areas. We are certain that these ideas will help you in selecting the best outdoor tiles.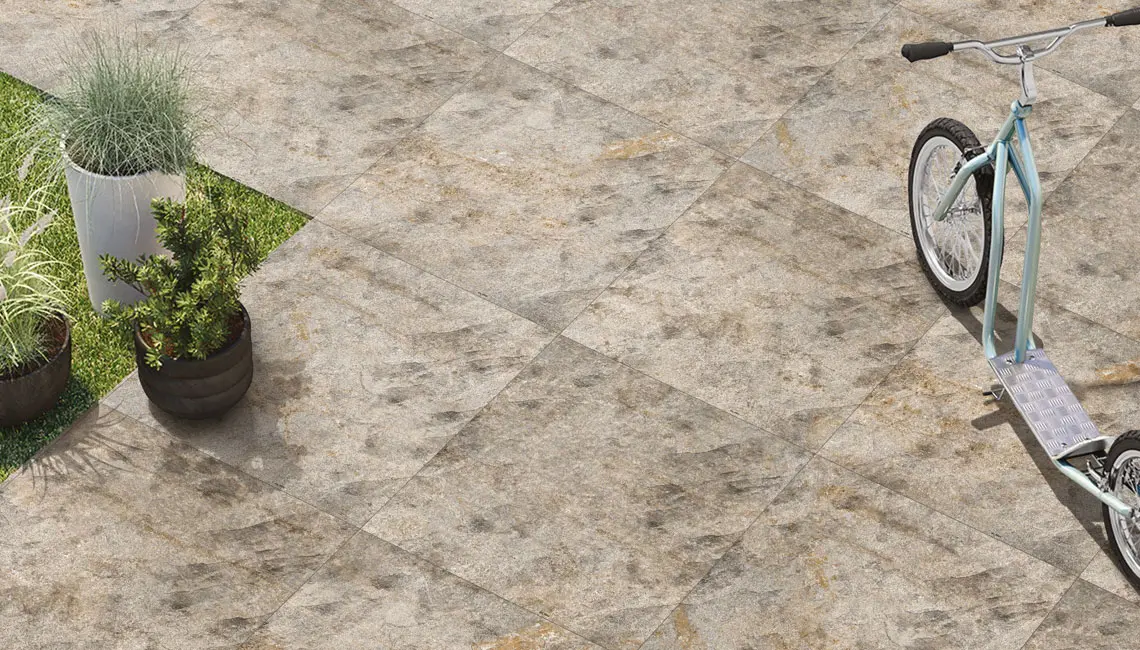 11 Tips to Buy the Best Floor Tiles for Outdoor Areas
First and foremost, set a budget. Yes, when it comes to choosing outdoor tiles, the first task is to set the budget. Based on your budget, you will get plenty of ideas as to what types of tiles are within your budget and that you may purchase, as well as what tiles are outside of your budget and that you should avoid. However, make sure you keep a realistic budget– not too little, nor too much.
2.
Keep The Surrounding In Mind
The second factor to consider when choosing the best outdoor floor tiles is the surroundings of your place. Because if you live near a beautiful beach, you will require a different type of outdoor tile than if you live in the middle of the hustle and bustle. Since the climatic conditions in these two locations vary, so will the outdoor tiles type.
3.
Don't Hesitate To Experiment With Colors
Yes, when it comes to floor tiles for outdoor, you can play with different colors. If you are hesitant to experiment with textures and colours for indoors, try it for outside. You can use bright tile colours to make the space more alive or mild tone colours to make the space more soothing. You can also use a combination of light and dark colours to create a unique layout.
4.
Keep The Durability On Top
Since floor tiles for outdoor are subjected to multiple climatic changes and do not have any protection from sunlight or rains like indoor tiles, it is recommended that the durability of the tiles be stressed. Check if the tiles are made of high-quality raw materials and can survive weather odds and traffic. Always choose tiles with a longer life span.
5.
Choose Slip Resistant Floor Tiles
As outdoor floor tiles often get wet, you should only prefer slip-resistant tiles. The outdoor tiles' slip-resistant texture will keep you from falling on the floor and hurting yourself. Moreover, since floor tiles for outdoor are frequently exposed to moisture, they can result in accidents and injuries. For all of these reasons, always go for slip-resistant outdoor floor tiles.
6.
Stay Away From Polished Tiles
Polished tiles for outdoor use are a no-no! Polished tiles are ideal for indoor uses, but they are a poor choice for outdoor uses. Not only will it be damaged frequently or require repair, but it will also injure you since these tiles have very little slip resistance. Moreover, polished floor tiles for outdoor will reflect too much light during the day, making the space hot and unsuitable for living in.
Yes, instead of polished tiles, you should choose matt tiles for outdoor use. Matt tiles not only have a slip-resistant surface, but they are also substantially more durable than polished tiles. Moreover, matt floor tiles for outdoor are non-slippery since they have higher friction than gloss tiles. Also, it absorbs the most sunlight and does not reflect it into the environment, keeping the surroundings cool and comfortable.
8.
Consider Water Absorption Rate
Another factor to consider while selecting the best outdoor floor tiles is the absorption rate. Find out how porous the tiles are. If you live in an area where the climate always remains rainy, make sure you buy outdoor tiles for floors with a low absorption rate so that they absorb a limited amount of water, preventing rot and algae growth.
9.
Choose The Tiles That Matches With Home Theme
When it comes to outdoor tiles, you can feel free to experiment with colours. At the same time, remember to keep your indoor theme in mind. Ensure that the outdoor theme is aligned with the indoor theme. They must not be too opposite to each other. For example, if you chose a light tone color palette for indoors, use the same color palette for outdoor as well.
10.
Tiles That Requires Minimal Maintenance
Always choose outdoor floor tiles that require little maintenance. Since the outdoor area is often large, cleaning and maintaining it can be a difficult chore. Moreover, since it is an open place, it gets dirty very easily. Besides, if you have, by mistake, used polished or glossy floor tiles for outdoor, the maintenance will be increased further, which will be a recurring cost. Overall, choose outdoor tiles that require the least amount of care.
11.
The Tiles That Align With Your Taste
Above all, pick the tiles that please you! Yes, the ultimate purpose of all of these exercises is to create the home of your dreams. Isn't that right? For this reason, make certain that the outdoor floor tiles you select are a good fit for your needs. Because it's pointless to buy outdoor floor tiles that have all the qualities, but you don't like them at all. So, choose the tiles that appeal to you!
If you follow all of the 11 tips for choosing the best outdoor tiles for the floor, we are positive that you will be able to zero in on outdoor tiles that are the best in every way.
Graystone ceramic is an Indian porcelain tile manufacturer known for its high quality and affordable prices. The company offers a wide variety of porcelain tiles in multiple finishes, including fusion, wooden strips, and stone look.