We are pleased that you place as much emphasis on your kitchen flooring as you do on your bedroom or living room flooring. After all, the kitchen is one of the most visited areas of the house and the source of all the delectable dishes. Choosing between gloss tiles and matt tiles for your kitchen might be a difficult task if you are unfamiliar with their qualities, benefits, and downsides.
But don't be worried. This blog post is exclusively for you. Here, we will learn what matt floor tiles are, what gloss floor tiles are, and which one is best for kitchen flooring. Let's get started right away.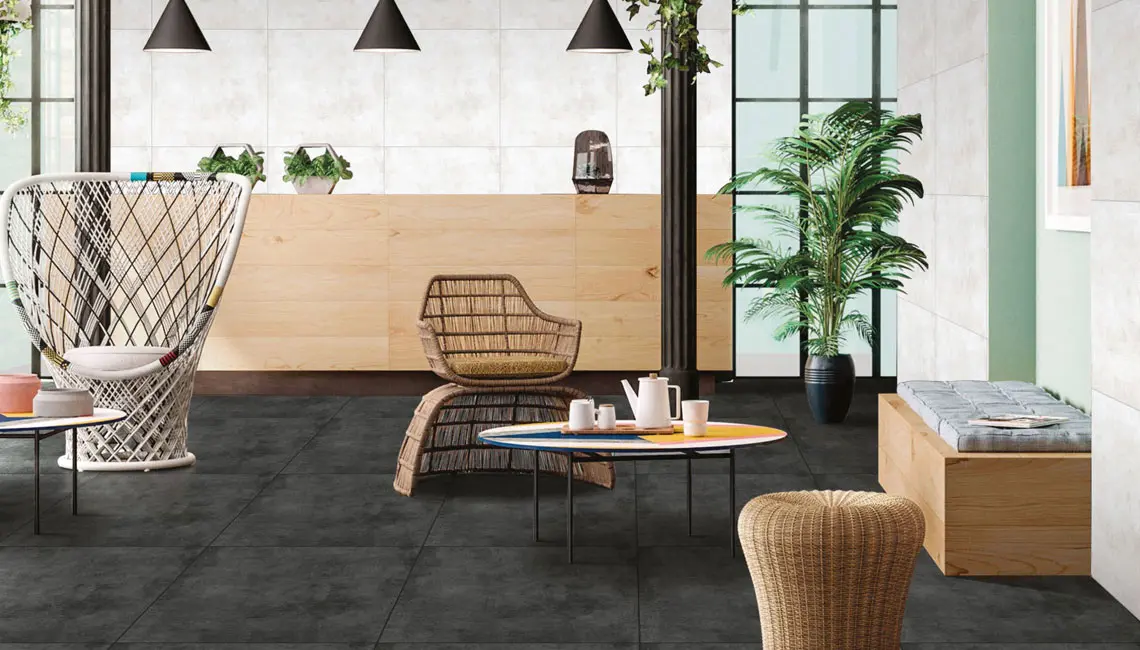 What Are Matt Floor Tiles?
Matt floor tiles, also known as matte floor tiles, have a non-shiny, subtle appearance. Moreover, as compared to almost all other tiles, matt tiles offer higher traction than gloss tiles and are therefore often preferred for high-traffic areas.
Additionally, matt tiles have an anti-slippery surface, making them an excellent flooring choice for numerous places such as kitchens, bathrooms, balconies, and others. It is worth mentioning that matt porcelain tiles complement practically every type of décor and architectural style, whether traditional or contemporary.
Now let's take a look at what gloss floor tiles are.
What Are Gloss Floor Tiles?
As the name implies, Gloss tiles are those tiles with a glazed coating on the surface that makes them shine. In fact, the coating is the primary difference or feature that distinguishes them from other tiles. Moreover, these tiles can camouflage scratches like no other.
Also, the shining nature of the gloss floor tiles makes even the compact room look bigger. The light reflected by the tiles expands the space and makes it appear larger and brighter. Further, gloss tiles are simple to clean and require little maintenance and care.
Now, let's learn the differences between matt and gloss floor tiles, as well as which tile is ideal for the kitchen.
Matt Floor Tiles Vs. Gloss Floor Tiles– Which One To Choose For Kitchen?
We will evaluate the matt and gloss tiles based on factors such as durability, porosity, appearance, slip resistance, maintenance, and cost. Let's start with slip resistance.
Matt floor tiles clearly have the edge when it comes to slip resistance. As they have higher friction than gloss tiles, matte tiles are non-slippery and hence a perfect choice for kitchens, bathrooms, and other wet spaces. On the other hand, Gloss tiles have a glazed covering surface that makes the tiles shiny but also slippery. Ultimately, these tiles are a no-no in kitchens and other similar spaces.
Since both matt floor tiles and gloss tiles made of porcelain tiles have the same range of porosity or have a water absorption rate of less than 0.5 percent. This means that both tiles are suitable for wet areas; but, due to the slippery surface of the gloss tiles, it should be avoided.
Although matt floor tiles do not have the shining appearance like gloss tiles, they do add a classic touch to any space. If you like the rustic style, matt tiles are an excellent choice. On the other hand, Gloss tiles are quite exquisite and light up the room, making it appear virtually spacious.
Matt floor tiles outperform gloss tiles in terms of durability and strength. Since gloss tiles have a glazed coating on the surface, they often get damaged or cracked. On the other hand, Matt tiles are very resistant to scratches and have substantially higher durability, assuring a long lifespan.
Because of their shining appearance, gloss porcelain tiles necessitate a fair amount of maintenance. So, if you accidentally drop something on the floor, such as food or beverages, you must wipe it up right away, or it may stain. On the other hand, Matt floor tiles require less care but are difficult to clean due to their rustic texture.
Since gloss tiles have a glazed surface, they are often used in modern styles with brighter wall colors and surroundings. If you prefer a rustic look, avoid using gloss tiles because they will create a contrasting and unappealing appearance. On the other hand, Matt tiles go well with rustic theme décor and can be used in corridors, kitchens, and bathrooms.
Because of the glazed coated surface, gloss tiles are slightly more expensive than matt floor tiles. However, the price difference is not that significant. As they're both porcelain tiles, the prices are relatively similar. For this reason, the cost will not be an important concern when deciding which one to select.
Graystone Recommendation
Based on these comparisons, we can safely conclude that matt porcelain floor tiles have the upper hand in terms of durability, skid resistance, and maintenance. Our matt floor tiles are available in 60x60cm and 60x120cm sizes. Gloss tiles, on the other hand, have an advantage in terms of appearance and care. Overall, we recommend matt tiles for the kitchen because of their skid resistance and durability.
Summary: Graystone ceramic manufactures finest porcelain floor tiles the ceramic industry has ever created. The company offers a wide and exquisite collection of porcelain tiles featuring various finishes and sizes such as fusion, wood strip, stone, and so on.