Most Popular 11 Shades Of Wood Floor Tiles For Living Room
Wood floor tiles are one of the most adaptable flooring materials available today; it is more durable than other types of flooring, such as laminate, and they can be refinished after years of use. These tiles are also available in a variety of styles, sizes, finishes, and colors. One reason for the popularity of wood floor tile is that it can be used to enhance any interior design, architectural style, or color palette.
Wood floor tiles are a best option that combines hardwood aesthetics with numerous additional benefits. Unlike hardwood flooring, wood floor tiles are not only cost-effective but also environmentally friendly. Natural tones similar to those found in raw wood are timeless and really showcase the wood's natural characteristics. It is also very resistant to dirt and scratches. Each type of wood tile has its own beauty and built-in characteristics.
So, first and foremost, let us define what wood floor tile is.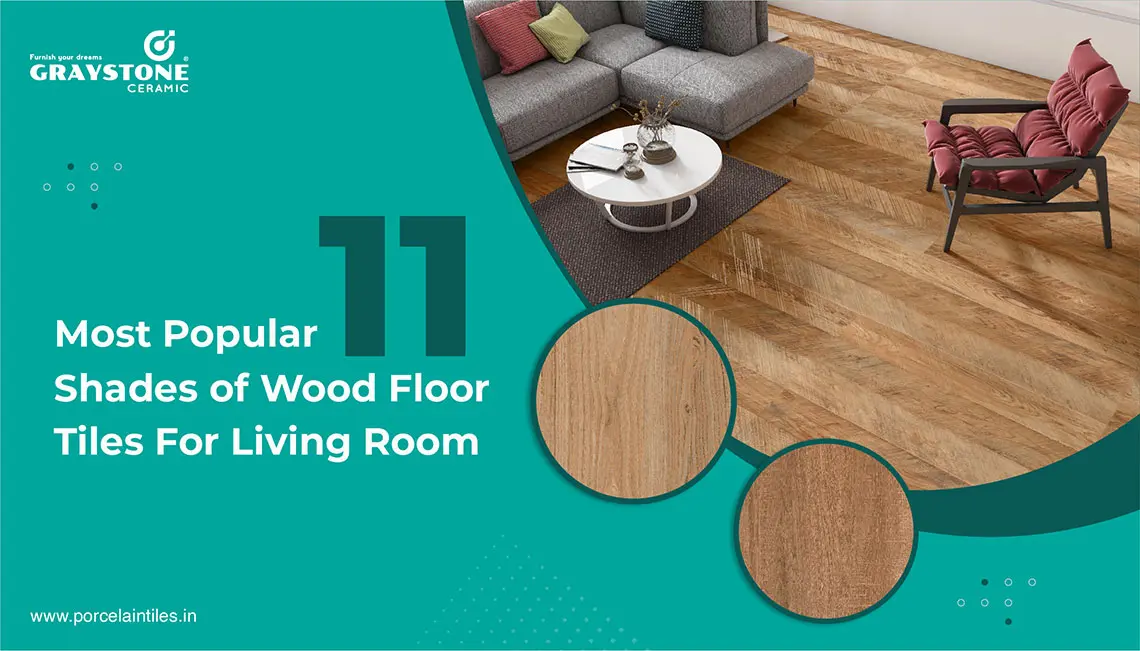 Wood floor tile is a type of tile that looks like wood. It is available in a variety of colors and styles, as well as available in various sizes such as porcelain tiles 60x60cm and 60x120cm. Wood floor tiles are a low-maintenance flooring option. These tiles are made of porcelain or ceramic and have wood-look graphics printed on them. Both of these materials are made of fired clay, a completely natural substance.
Wood floor tiles are typically much less expensive than natural wooden flooring. There are additional advantages, such as the fact that it is one of the most durable and simple-to-maintain flooring solutions available. Wood floor tiles are weather resistant and do not fade in high temperatures.
Now that we've defined what a wood floor tiles are, let's take a look at the top 11 different colors of wood floor tiles for the living room to see how versatile wood tile flooring can be.
11 Popular Shades of Wood Floor Tiles For your Living Rooms
Color can have a big impact on how a room or space looks. Darker colors are considered more traditional and elegant, while classic pine wood floor tiles add a fresh and modern feel to a living room. Classic pine color tiles are a popular design trend and look great in wide living room areas.
The light-toned color of this tile is very long-lasting and appealing, and unlike other tiles, It will not need to be cleaned on a regular basis. These light-toned wood floor tiles have a natural, dark wood knot-like design. Which looks like a shiny replica of natural wood.
Rustic Alteration wood floor tiles are a fantastic flooring solution that is ideal for living rooms. This floor tile has a lot of the natural wooden texture found on the planks. This is a lovely wood floor tile that is a stain-resistant product and comes in one shade. This tile has a commercial-grade luxury surface that is of the highest quality.
The rich and dark wood floor tiles are another product with two different colors to choose from. This living room floor tile has a very deep, dark color to it that appears dark brown. This dark color of the tile makes the floor look very rich and full of character, as well as looks like real wenge wood. These wood floor tiles are simple to install and maintain.
The natural moody gray color in the wood floor tiles is actually one of its lightest tones, making it an interesting and eye-catching pattern. The floor itself is rich and has a smokey gray color with a light natural tone for a subtle and unique character. So after you install moody grays tiles in your living room, they may appear excellent for years to come. This tile is also water & moisture resistant and is very easy to clean.
This multicolored wood tile can be used in a variety of applications, especially in a large area. This wood floor tiles have a unique color pattern that changes throughout the floor. It perfectly draws and attracts people's attention without needing a decorative pattern. It is an ideal way to add a decorative touch to your living room. These multi-colored wood floor tiles are often brightly patterned and come in two sizes to suit your living room preferences.
The floor in living room areas should be smoother and more subtle. This wood floor tile features an original wenge wood design in a light gray shade with a shiny matte finish. These light gray flat wood floor tiles could be considered the ideal neutral. It adds just the right amount of color to your living room while keeping the space feeling light and delicate. It's the perfect color for a modern living room flooring that can satisfy your needs.
These two-tone wood floor tiles have two shades of color. Which keeps the floor in the living room looking interesting. Using this two-tone color tile can provide numerous benefits, including giving a distinctive look, the creation of a positive atmosphere, and the addition of a genuinely pleasing and soothing aspect to the living room itself.
Warm Gray wood floor tiles look stunning with light-colored furniture in the living room. The color of this tile makes the space light and comfortable. This antique floor tile is available in two color variations and is commonly used in the living room. Because these floor tiles are durable, they are ideal for use in bathrooms and outdoor areas as well.
Dark brown has long been a popular color for wood floors, but some experts predict a shift toward lighter shades. This Costa Rica wood floor tiles are light in color overall but designed in a knot like real costa rica wood to keep it from being boring. The cream color of this tile is becoming increasingly popular. Some consider this color to have a more European look, making an excellent color base for the living room area.
These timber wood floor tiles have a slightly wavy design and appear to have been hand-processed with old-fashioned wooden work tools. Also, the design of this tile is similar to timber wood.
It is ideal for living areas that require a rustic impression, but can also be combined with modern decoration to create beautiful contrasts. These tiles are also durable, so they won't wear out quickly and retain their original colors.
11.
Light Silver Wood Tone
If you want to brighten up a living room, Try this light silver wood tile. Light Silver Wood Tone tiles and black furniture in your living room can be an appealing combination for your home. It would also be a fantastic choice for kitchen areas too. Silver-tone combines the luxe aesthetics of wood tile and makes your living room modern and delightful.
So these are the eleven most popular wood floor tile colors for your living room. We are certain that this information will benefit you in selecting the best shades of wooden flooring. If you want to see more wood tiles design and shades, must check out our wood floor tiles collection.
Graystone Ceramic, based in Morbi, is a prominent porcelain tile manufacturer. We are well-known not only in the domestic market but also in the international market for the innovation in porcelain floor tiles.