11 Shades Of Natural Looking Wood Floor Tiles For Living Room
11 Shades Of Natural Looking Wood Floor Tiles For Living Room
Wood floor tiles are one of the most popular choices for homeowners because of their adaptability. They are durable and can last for years before requiring any major maintenance or reinstallation. These tiles can be found in different shapes, sizes, designs, and patterns. Wood floor tiles are popular because of their aesthetics and natural look. Thus, enhancing the interior environment.
Wood floor tiles offer several features to homeowners. Namely, cost-effectiveness and environment-friendly nature. These tiles often receive outstanding reviews from homeowners as they look similar to the raw wood and showcase their characteristics.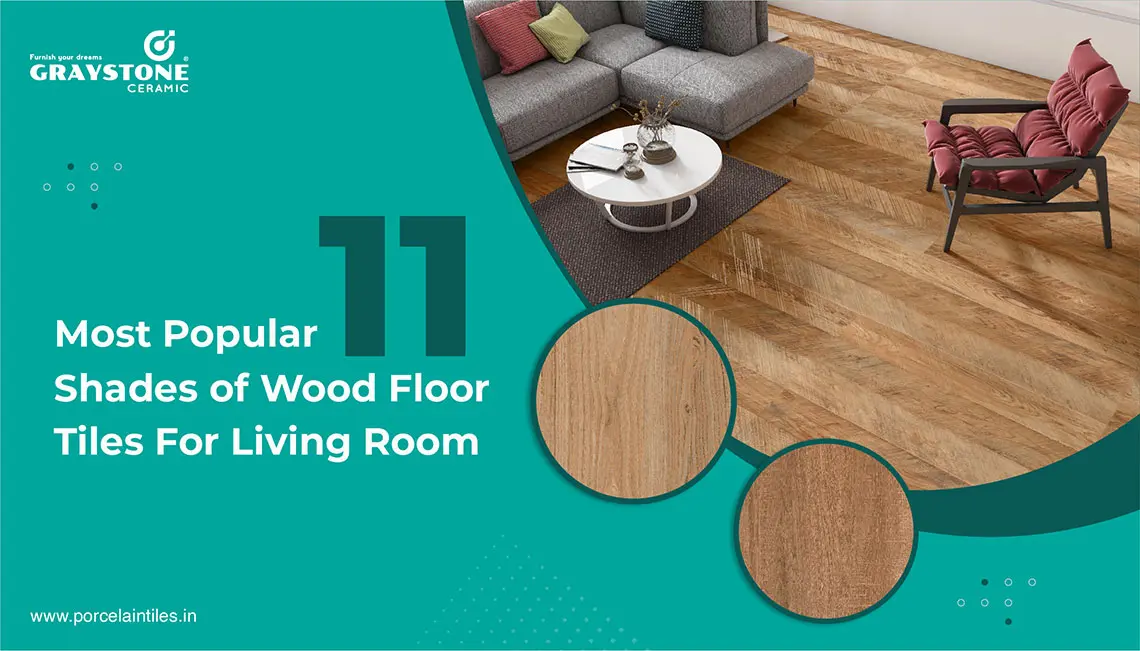 What Are Wood Floor Tiles?
Wood floor tiles are essentially a tile that looks like real wood. They are available in different shapes and sizes in the market. Wood floor tiles require rather low maintenance because these tiles are made up of durable materials such as porcelain. Wood floor tiles are also comparatively less expensive than original wooden tiles because of the abundance of raw materials required for porcelain or ceramic tiles. These tiles are water resistant and they do not fade away with an increase in temperature.
Let us break down the wood floor tiles shades to see how versatile wood tile flooring can be.
Popular Wood Floor Tiles Shades For Living Room:
This shade is recommended for modern households because of its relatively lighter colour. This allows the tile to provide a fresh yet modern look and is thus recommended for modern homes. This colour is quite popular for living rooms as it makes the entire room feel fresh with a smooth texture. Classic Light Pine is long-lasting and appealing in nature, tiles with this colour do not require regular maintenance.
This shade delivers a natural and fresh look to the living room and thus successfully mimics the aesthetics of natural wood.
This shade delivers a natural and fresh look to the living room and thus successfully mimics the aesthetics of natural wood.
These tiles make up to be one of the most popular flooring solutions. This shade complements the natural look and imparts a unique character to the living room. They look beautiful in the living room because of their moderately dark colour paired with altering contrast.
Rustic alteration shade is often marketed as a commercially luxury tile, and it lives up to its expectations.
The rich and dark wood floor tiles are another product with two different colors to choose from. This living room floor tile has a very deep, dark color to it that appears dark brown. This dark color of the tile makes the floor look very rich and full of character, as well as looks like real wenge wood. These wood floor tiles are simple to install and maintain.
The natural moody gray color in the wood floor tiles is actually one of its lightest tones, making it an interesting and eye-catching pattern. The floor itself is rich and has a smokey gray color with a light natural tone for a subtle and unique character. So after you install moody grays tiles in your living room, they may appear excellent for years to come. This tile is also water & moisture resistant and is very easy to clean.
This multicolored wood tile can be used in a variety of applications, especially in a large area. This wood floor tiles have a unique color pattern that changes throughout the floor. It perfectly draws and attracts people's attention without needing a decorative pattern. It is an ideal way to add a decorative touch to your living room. These multi-colored wood floor tiles are often brightly patterned and come in two sizes to suit your living room preferences.
Dark brown colour tile offers a smooth and clear finish thus suitable for living rooms. The dark brown shade features an original wenge wood design making it look attractive and smooth. These tiles are being considered ideal neutral, meaning you can never be wrong with them. They offer a neutral amount of colour and composure to the living room.
These tiles can satisfy most of the homeowner's requirements because of their light composure.
This type of tile offers an antagonistic visual appearance. Meaning they possess two colours that work in contrast and provide different tones to the tile. Their distinctive look makes them a popular choice as they impart an optimistic atmosphere.
These are generally pleasing to look at and soothing to the eyes thus making them suitable for living rooms
Stunning light-colored tiles complement the light-colored furniture. These tiles impart a light and comfortable character to the room. Living rooms require such character as that is the place where most of the activity is entertained, self or guests. These tiles are considered antique and they are available in two variations.
These tiles work best for living rooms and bathrooms because of their light and comfortable nature.
9.
Light Costa Rica Wood:
Mimics exotic wood because of which they have become a popular choice among modern homeowners. These tiles are inclined a little bit towards the lighter shades yet keep the overall aesthetics incredibly similar to costa rica wood. Their popularity can be considered as an outcome of their excellent creamy texture.
These tiles prove to be an excellent choice for living rooms because of their creamy texture and contemporary light texture.
The name itself is evidence of its beauty. These tiles are available in slightly wavy patterns that provide them with a little bit of subtle design. Timber is often considered old and traditional thus, making these tiles impart a conventional yet trendy look to the living room.
The rustic impression can work in excellent contrast with modern furniture which makes this tile suitable for living rooms. Their colour does not fade out quickly and can persist enormous environmental stress.
11.
Light Silver Wood Tone:
This shade is used to brighten up the place. The light silver tone looks beautiful with modern furniture and can be prone to attractive contrast. The silver tone also imparts a luxurious look, an ideal choice for living rooms.
So these are the eleven most popular wood floor tile colors for your living room. We are certain that this information will benefit you in selecting the best shades of wooden flooring. If you want to see more wood tiles design and shades, must check out our wood floor tiles collection.
The modern and delightful nature of the tile makes them suitable for living rooms as well as kitchens.