Why Must You Choose Graystone
Porcelain Floor Tiles?
The tile and ceramic industries, in particular, have undergone significant transformations in past years. We have been introduced to a range of new tile products with exquisite designs, textures, sizes, shapes, and materials.
Moreover, before a decade, we used to have a very limited range of options when it came to floor tiles, but now with technological advancement, we have a wide variety of tile products to select from, including porcelain floor tiles, matt marble tiles, stone look tiles, wood look porcelain tiles, wooden strip tiles, and so on.
Besides, when we talk about porcelain floor tiles manufacturers in India, Graystone Ceramic is the brand that immediately comes to mind!
This article will explain why you should use Graystone Porcelain Floor Tiles. In the first section, we will get a brief overview of Graystone Ceramic; in the next section, we will look at its firm conviction in the Made in India ideology; and in the following sections, we will look at their manufacturing facilities and process, as well as the differences between GVT and PGVT tiles.
We'll wrap off this blog with an outline of Graystone Ceramic products, including sizes, finishes, and application.
Let's get started.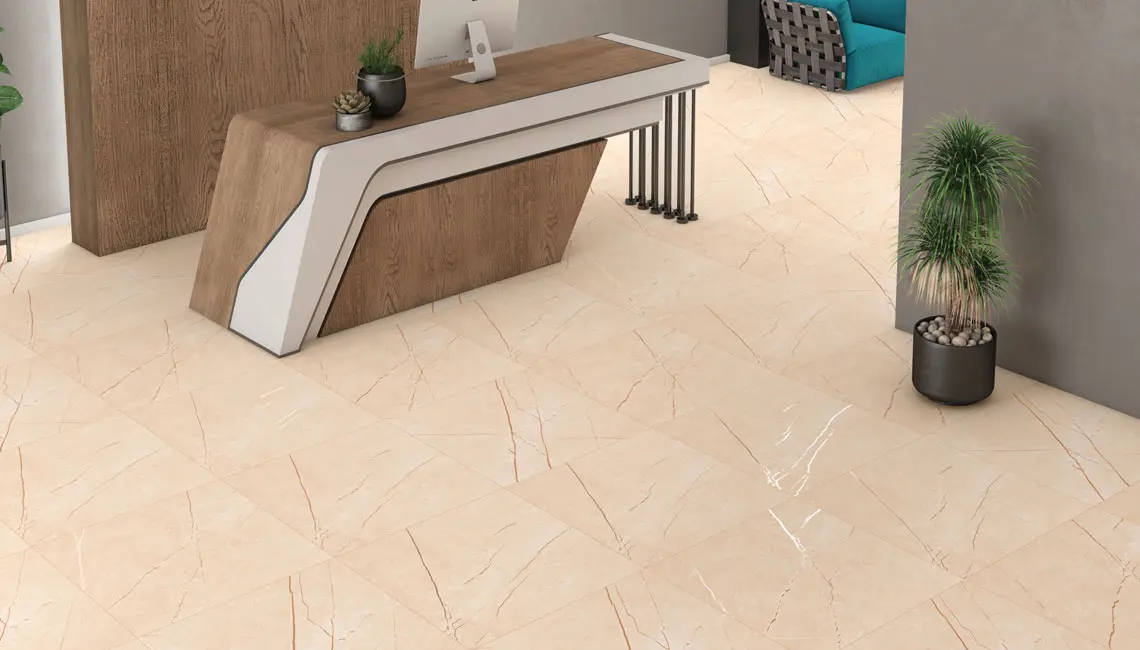 Graystone Ceramic– A Great Place to Buy Porcelain Floor Tiles
When it comes to Porcelain floor tiles, no conversation can be complete without mentioning Graystone Ceramic. Graystone Ceramic has successfully established itself as a renowned porcelain floor tiles manufacturer in India over the last few years. The quality they provide, the service they offer, and the technology they use are considerably superior to those provided by other porcelain tiles manufacturers in the industry.
Moreover, its extensive & intertwined network of distributors, agents, retailers, and salespeople has made its products easily accessible to a broader audience in both local and foreign markets. Along with ensuring a bright future for their promoters and workers, Graystone Stone ceramic supports nation building by embracing the Make In India mantra.
Make In India Porcelain Floor Tiles
Being a leading porcelain tiles manufacturer in India, Graystone Ceramic wholeheartedly supports and adheres to the Make In India initiative by establishing world-class manufacturing units in India, using Indian raw materials, employing Indian labor, and promoting young talents. All Graystone products, whether porcelain floor tiles, wood strip floor tiles, or stone look tiles, are made entirely of Indian raw materials and manufactured entirely by Indian workers leveraging Indian manufacturing technology.
By subscribing to Make in India, Graystone Ceramic contributes to nation building in various ways, including job creation, revenue generation for the government, enticing international investors to India, and eventually strengthening the Indian economy and overall growth. So, when you buy porcelain floor tiles or any other product from Graystone, you are also contributing to the nation's growth.
Exceptional-Technology-Infrastructure
Graystone's high-quality porcelain floor tiles are the result of a solid foundation built with technological advancements and cutting-edge infrastructure. The company not only employs innovative ceramic production technology, but also upgrades it on a regular basis to ensure that they stay ahead of their competitors, make the finest porcelain floor tiles in the industry, and maintain their market leadership.
In addition to the advanced machinery, other aspects of the manufacturing unit are impressive too. For example, the company has a large manufacturing facility that can house a range of machinery and can be run 24x7 a day and 365 days a year to meet the demands of their global and local clientele.
Moreover, Graystone Ceramic also has a large warehouse to store raw materials and goods, protecting them from environmental factors and assuring their quality.
Difference Between GVT and PGVT Tiles
Porcelain floor tiles can be further divided into two types: GVT & PGVT.
Let's start with the basics. GVT is an acronym for Glazed Vitrified Tiles, whereas PGVT is an acronym for Polished Vitrified Tiles. GVT tiles, as the name suggests, have a glazed surface that allows for a wide range of patterns and artwork. On the other hand, PGVT tiles have a high reflecting index and a glossy surface, allowing them to shine brightly.
Another notable distinction between GVT tiles and PGVT tiles is that, while GVT tiles are available in four various finishes, namely satin, rustic, matt, and sugar, PGVT tiles are only available in a glossy finish.
Moreover, glazed vitrified tiles are appropriate for high-traffic areas such as malls, bus stops, hospitals, airports, and railway stations. On the other hand, polished glazed vitrified tiles are not recommended for commercial spaces due to their slippery surface but are an excellent option for home spaces. Hover to our collection section to find the finest and extensive product line of both GVT tiles and PGVT tiles, as well as porcelain floor tiles.
Exclusive Porcelain Floor Tiles Product line
Graystone Ceramic understands its customers' needs and market trends very well. As a result, it manufactures and supplies a diverse range of porcelain floor tiles and other tile products to both domestic and global consumers to make sure their desires are met thoroughly.
Graystone Ceramic porcelain floor tiles come in a variety of finishes, including matt marble, fusion surface, stone look, wood look, Indian look, and wooden strip. In addition, the majority of these porcelain floor tiles finishes are available in the two most common and in-demand sizes: 600x600mm and 600x1200mm.
Both of these sizes– porcelain Tiles 60x60cm/600x600mm and porcelain Tiles 60x120cm/600x1200mm are sufficient to provide your place with attractive flooring. Also, these tiles can be used in the living room, bedroom, kitchen, outdoor area, as well as commercial and public areas.
In a nutshell, Graystone Ceramic porcelain floor tiles can cover and floor almost every type of setting!