Graystone Stellar
Manufacturing Facilities
Tiles Manufacturer and Exporter
In just 4 years, Graystone Ceramic has established world-class manufacturing facilities with exceptional operational efficiencies. Our manufacturing facilities not only facilitate the production of high-quality porcelain tiles, but also in the creation of hundreds of jobs and the training of unskilled workers. Moreover, we always use the most advanced and best technologies in all of our processes to ensure safe and reliable operations as well as the safety of our employees.

ULTRA-MODERN INFRASTRUCTURE
Porcelain tiles manufacturing unit
At Graystone, we understand the importance of having a solid infrastructure in place to produce quality products in bulk. Therefore, from the inception of the Graystone, we placed a great emphasis on infrastructure development. As a result, we currently have an advanced production facility capable of generating 10,000 boxes of tiles every day.
Not only do we have an advanced production facility, but we also have an efficient and innovative pallet packaging and loading area to ensure that porcelain tiles or any other items are packed well, preventing any damage along the journey from Graystone to its destination. Moreover, we also have a large warehouse to store our goods and raw materials to protect them from environmental impacts or any form of damage. Overall, our solid infrastructure is one of the central pillars that has played a pivotal role in our success.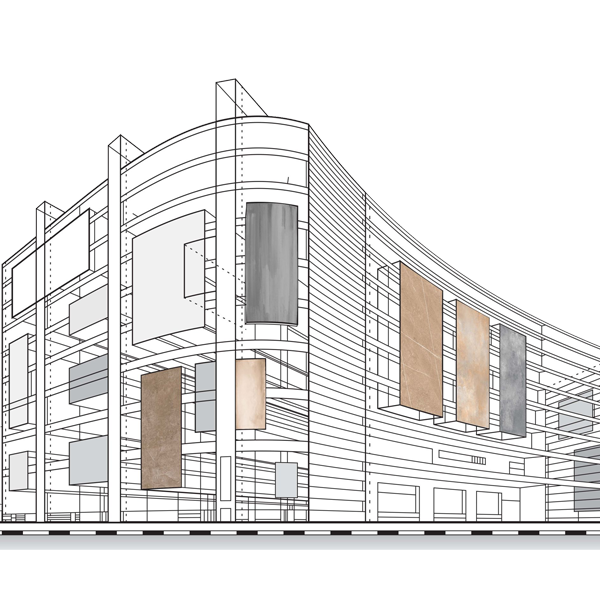 Driven By Passion, Attention & Innovation
TECHNOLOGY / MACHINES
Graystone Ceramic

The Synergy of Technologies,
Innovation, And Quality
Best Quality Porcelain Floor Tiles
We live in a technology-driven age where no business can survive without embracing the latest and essential technologies. As a result, at Graystone Ceramic, we constantly strive to invest and embrace the latest ceramic industry technology, which empowers us to make the highest quality porcelain tiles and keep us ahead of our competitors. We currently have the best four ceramic technologies in our arsenal, which include the Supar slab KEDA pressing system, the JUMPER New Energy Kiln Technology, the HOPE Digital printing machine, and the KEDA sizing machine.
Not only do we support technological advancement, but we also encourage & promote innovation across all divisions at Graystone Ceramic. Over time, we have successfully built an environment here that stimulates creative thinking and fosters collaboration and research aimed at discovering revolutionary tile design, patterns, finishes, and textures. Our passionate R&D team has successfully created various products in the past few years, including carving finish and many others ultimately contributed to the ceramic industry.
Along with technologies and innovation, we place a strong emphasis on quality above everything else. Indeed, it is not an exaggeration to say that for us, quality is not just a parameter but rather an ideology that we will never abandon. For example, in addition to a committed quality control team that closely oversees the manufacturing process 24X7, we also have several automatic quality checks in place throughout the manufacturing process to ensure that we manufacture only the best porcelain tiles.
In a nutshell, technologies, innovation, and quality are the 3 aspects that have not only empowered us to produce the most delicate porcelain tiles that are adored by everyone on this planet but also made Graystone Ceramic the market leader in the ceramic industry.