Wood Floor Tiles Vs Real Wooden Flooring
Which is Better?
Flooring is the foundation of how your home, workplace, or any other setting will seem. It connects all aspects of your décor, from wall colors to interior design to furniture and lighting. For this reason, you must consider several factors while selecting the type of flooring to be installed. Everything from the flooring material to the design to the colors to the thickness should be carefully evaluated to ensure that your hard-earned money is not wasted.
However, when it comes to wooden flooring, we are always in a dilemma about whether to go with wood floor tiles or hardwood. Isn't it? So, if you're at the same crossroads, read this blog to learn about the advantages and disadvantages of wooden tiles and hardwood and which is a better option and why.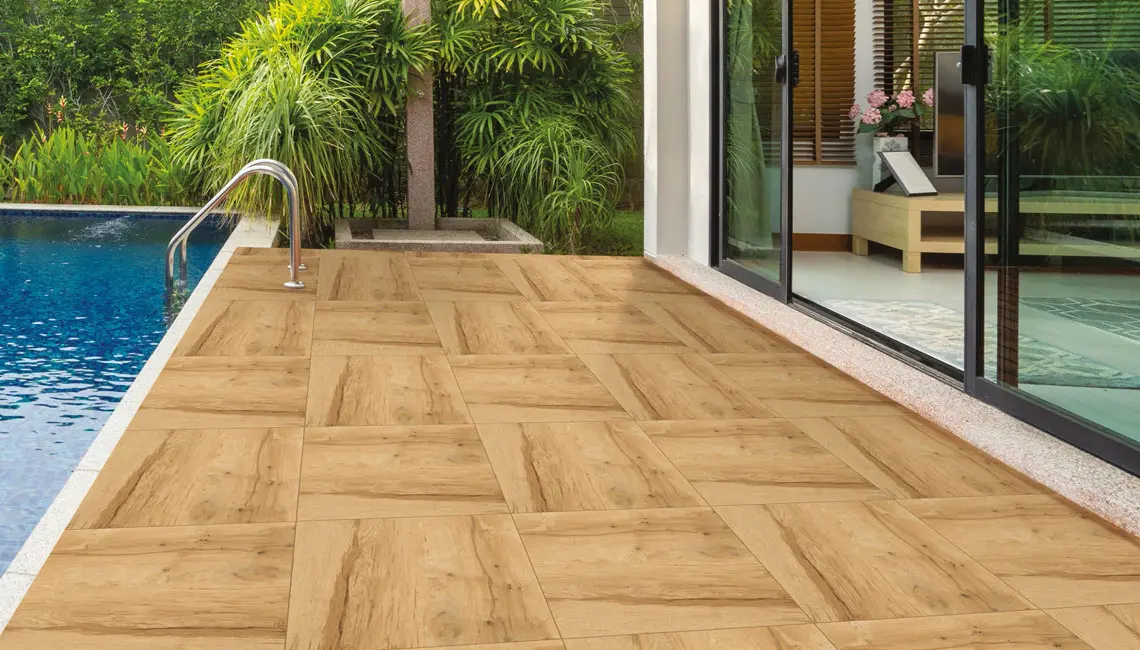 What Is a Wood Floor Tile?
As the name implies, wood floor tiles also known as wooden strip tiles are tiles with a wooden design or pattern on them. More and more people are switching from natural hardwood flooring to wood look floor tiles as they become more conscious of the value of the environment. These floor tiles are the best substitute for natural hardwood and provide the same rustic and rich appearance as the original hardwood.
Moreover, compared to natural hardwood, wood floor tiles are less expensive, more sustainable, environmentally friendly, and easy to maintain. For all of these reasons, wood floor tiles have become a popular alternative to hardwood flooring as well as a preferred flooring choice among consumers and designers.
Additionally, it is available in a wide range of wooden color hues, textures, and sizes, allowing designers to achieve the desired wooden effect and create the ideal décor on a tight budget. So, now that you know what wood floor tiles are let's have a brief view of wooden flooring.
What Is a Wooden Flooring?
Simply put, wooden flooring is what it sounds like. It is a natural wood, which ranges from cherry to bamboo. The main disadvantage of wooden flooring is that it requires natural wood, which harms the environment. In addition, unlike wood floor tiles, natural wood flooring is also susceptible to damage such as scratches, cracks, and dents.
Moreover, climatic conditions damage its quality as it contracts or expands, requiring refinishing and regular care. Apart from being challenging to maintain, wooden flooring cannot be used in areas such as bathrooms, laundry rooms, and entryways like wooden strip tiles. However, this does not imply that there are just downsides to using wooden floors.
Indeed, it has lots of advantages too, such as the fact that hardwood flooring not only improves the aesthetic appeal of your home but it may also boost the value of your property. Both wood floor tiles and wooden floors appear to be viable solutions, right? So, in the following section, we will examine each of the aspects of both of these flooring options.
Wood Floor Tiles Vs. Wooden Flooring: Pros & Cons
Let us now examine each of the elements of wood floor tiles and hardwood flooring in detail, including cost, maintenance, versatility, durability, environmental friendliness, and installation.
A. Cost
On average, hardwood flooring installation costs $6 to $11 per square foot, with high-end products and installation prices ranging from $12 to $23 per square foot. On the other hand, wood look floor tiles will cost you between $0.50 and $6.50 per square foot on average. However, the pricing will vary depending on the material you select.
B. Maintenance
Since wood is subject to weather changes such as rain and temperature, maintaining wooden flooring is more complicated than maintaining wood floor tiles. On the other hand, wooden tiles are stain-resistant and can withstand wear and tear, making them easy to clean and maintain. To clean the stains and spills, all you need is a regular cleaning powder.
C. Versatility
When comparing the versatility of wooden tiles and wooden flooring, it is obvious that wooden flooring has the upper hand since you may give your space several styles by using natural hardwood. In addition, wooden flooring is more versatile than wood floor tiles also because they are made of natural hardwood which gives them some additional advantages.
D. Eco Friendly
The most major distinction between wooden flooring and wood floor tiles or Wooden strip tiles is that when you choose hardwood flooring, you are indirectly harming the environment because every piece of wood must be cut from the tree. On the other hand, by choosing wood flooring tiles, you are helping to save the environment in some way.
E. Durability
Hardwood flooring has several advantages over wood look floor tiles, but it falls short when it comes to durability. When the weather changes, hardwood develops scratches, cracks, and dents, requiring frequent refinishing. Wood floor tiles, on the other hand, are more resilient and have a longer lifespan. Moreover, if 1-2 tiles are broken or damaged, you will only need to repair those tiles rather than the entire floor.
F. Installation
Hardwood installation is more difficult and expensive than wood floor tile installation. For example, if you need to install hardwood on the second or higher floors, you will require heavy equipment to carry them up. However, in the case of wood look floor tiles, the installation method is simple and inexpensive.
So those are the 5 major differences between wood floor tiles and wooden flooring. When choosing between the two, keep all of these details in mind.
Wood Floor Tiles Vs. Wooden Flooring: Which Is Better?
Reading all of the information above, such as the pros and cons, and other details about wood floor tiles and wooden flooring, you must have realized that wood flooring tiles surpass wooden flooring in many ways and clearly have an edge. Moreover, the most apparent difference between wooden tiles and wooden flooring is that the former harms the environment while the latter does not. So, we would recommend that you choose wooden floor tiles over hardwood on any given day!