Things to Keep in Mind When Choosing Floor Tiles For Outdoor
The outdoor area of your home is equally as important as the indoor. Inside and out, we use tiles to enhance the beauty of our floors are a also great addition to any outdoor space. Floor tiles for outdoor slightly differ from those used indoors. The variation is due to the tiles' finishes, thickness, and durability.
The exterior space requires tile that is stronger than the interior space. Choosing the right floor tiles for outdoor can be difficult and confusing. And we have to consciously think about the general structure.
Below are tips to help you perform the complex process of choosing the best floor tiles for outdoor.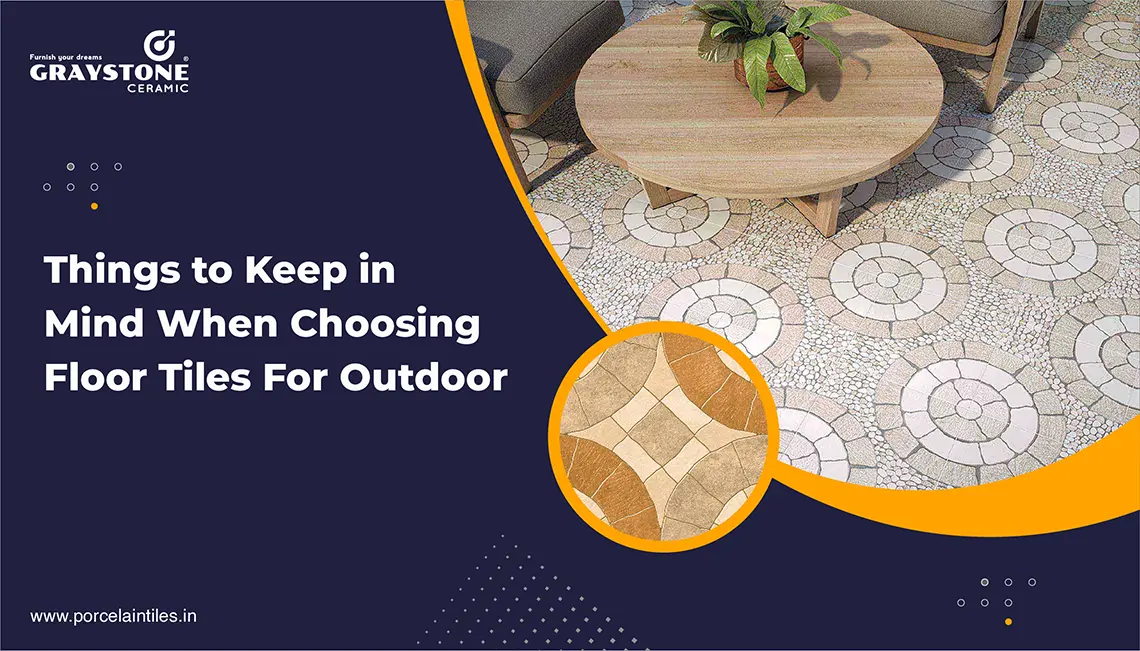 Tips for choosing floor tiles for the outdoor of your home
There are many different varieties of outdoor floor tiles to choose from, so if you do not know what to look for, the decision might be difficult. Here are a few tips to help you narrow down the options and choose the best floor tiles for the outdoor area of your home.
1.
Select The Best Tiles Type
There are many different types of tiles to choose from. First and foremost, determine which outdoor floor tiles best suit your outdoor space. Porcelain tiles, natural stone, and ceramic are the best options. From all these, you can choose the tile that is excellent in features as per your requirement.
A porcelain tile, for instance, has a lot more sizes, designs, and finish options than the other tiles. Similarly, the thickness of floor tiles for outdoor matters since stronger tiles should be used in homes where significant activity is expected rather than thinner tiles should be used in areas where there will be less foot traffic.
One of the significant factors to consider when choosing a floor tile for outdoor is what style or theme you are focusing on. The appearance of your home gives a good first impression. It is essential to complement the overall appeal and architectural features of your home, as it is the first thing your guest notices about your home.
The outdoor space should not feel like a separate space. Instead, it should complement your home's overall theme or design. So, you must focus on the floor tiles for outdoor.
This is a crucial consideration when choosing floor tiles for outdoor spaces to ensure that they are safe. Frost or moisture on the tiles can be dangerous for you and your family. As a result, slip-resistant tiles such as matt floor tiles are recommended. Outdoor floor tiles should be a little rougher than smooth indoor tiles. It will aid in the prevention of accidents. It will aid in the prevention of accidents.
Durability is one of the most significant elements to consider when selecting floor tiles for outdoor. Porcelain tiles are famous for outdoor applications due to their resilience and longevity. Outdoor tiles, unlike indoor tiles, should be more resistant to scratches, cracks, and other long-term damage, which is more likely due to the location. As a result, floor tiles for outdoor must be durable enough to survive harsh climates and high traffic locations.
5.
Must Be Slip Resistant
Wetness is usually exposed on outdoor tiles, which can lead to slips and falls in your home. Slipperiness is more prevalent in the outdoor area than in indoors. For floor tiles for outdoors, non-slip surfaces are essential, so some material options are eliminated. Choose tiles that are slip-resistant or have a texture that prevents accidents and slips
6.
Consider The Weather Conditions
Another important consideration is the weather. We all know that outdoor tiles have to withstand all weather conditions. If the tile is not designed for direct sunlight or is not weather resistant, it will discolor and lose its charm. You don't want your patio to look unattractive.
You should always look for outdoor floor tiles that meet your specific weather requirements. Heat-resistant tiles may not work well with snow or ice. If you have a shaded area, you should use colorful floor tiles for outdoor.
The most important thing when choosing an outdoor floor tile is to set a solid budget. Everyone knows that a home patio can be a large space. Covering the outdoor area with luxurious tiles can cost much more than tiled a small interior space.
For this reason, the cost of choosing an outdoor tile is a very important factor. Based on your budget, you can filter out which floor tiles are most suitable to your budget and home. However, try to stick to a reasonable budget that is neither too low nor too high.
Final Thoughts
We hope you will have a better idea for choosing a durable and strong outdoor tile. By following the above points you will be able to choose one of the best tiles for the outdoor areas of your home.
Greystone Ceramic produces significant porcelain tiles in a variety of finishes, styles, and sizes to meet the demands of both homeowners and architects. If you have any quarry regarding tile, contact us.