How To Choose Best Floor Tiles For Living Room: Factors & Finishes To Consider
Renovating or redesigning your home or office requires careful planning. Every material, color, and pattern you choose must be carefully considered and evaluated. Whether it's floor tiles for living rooms, architects, wood materials, wall tiles patterns, paint shades, wallpapers, and so on.
Besides, the effort increases significantly when it comes to a living room because it is a most utilized and central space in any home. You must consider the floor tiles size, shape, pattern, thickness, as well as the furniture style (contemporary, traditional, transitional, bohemian, etc.), and the wall design or color you select.
In this blog, we will look at porcelain floor tile,its different finishes and floor tiles designs for living rooms, and factors to consider when selecting floor tiles for living rooms.
Let us start with porcelain tile and its various finishes.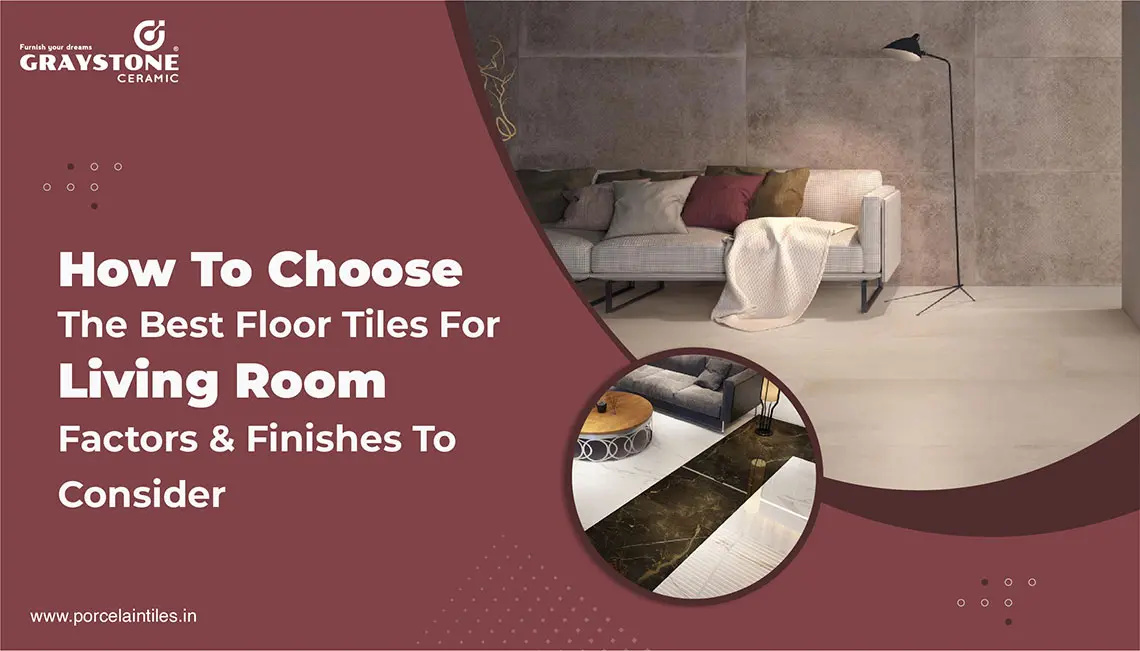 Why Choose Porcelain Floor Tiles For Living Room?
Many people believe that porcelain and ceramic floor tiles are interchangeable. However, this is not the case. Porcelain tiles are a type of ceramic tile with a water absorption rate of less than 0.5 percent, making them an excellent choice for both indoor and outdoor flooring. In addition, porcelain tiles stand out from other types of tiles due to their denser clay and advanced manufacturing process.
Moreover, floor tiles for living rooms can be glazed or unglazed and are commonly used to cover both floors and walls. Porcelain tiles' high scratch resistance, stain resistance, toughness, and durability are just a few of the key features that have made them popular among both homeowners and designers.
Let's now take a look at the 7 most beautiful floor tile finishes for the living room.
7 Stunning Floor Tiles Finishes For Living Room
First and foremost, when planning to redecorate the living room flooring, you must decide on the type of floor finish you favor. Since there are so many different porcelain floor tiles on the market, understanding each one is advisable in order to choose the best.
The following is a list of 7 finishes and floor tiles designs for living rooms, along with their meanings, compatibility, and characteristics. Let's take a closer look at them one by one.
1. Wood Floor Tiles
Porcelain tiles with a wood finish are the closest match to natural wood, are widely popular, and offer a slew of benefits, including high durability, incredible resistance to wear and tear, and compatibility with any space.
Best For: Both types of living rooms– with traditional and modern architectural styles.
2. Sugar Finish Floor Tiles
Sugar finish floor tiles for living rooms, unlike all other finishes, are created through a unique manufacturing process, have a striking appearance, and can be used in multiple settings, both commercial and residential.
Best For: Living rooms, pool decks, and porches. Provide a classy and charismatic appearance.
3. Matt Floor Tiles
The matt porcelain tiles are both aesthetically pleasing and long-lasting. In addition, they are an excellent choice for both walls and floors because of their scratch and stain resistance.
Best For: High-traffic areas that are frequently in contact with water, humidity, and steam.
4. 3D Finish Floor Tiles
As the name suggests, 3D floor tiles for living rooms are floor tiles that provide a 3D view– a realistic view. These tiles are made with microlens technology and have a 3-dimensional image placed on the surface.
Best For: All types of space, including the living room, children's room, and bathroom. It breathes life into the designs.
5. Galicha Finish Floor Tiles
Galicha tiles, also known as Encaustic tiles, are the type of tiles that have a very delicate motif design on them, giving your space a premium and rich appearance. Galicha floor tiles for living rooms are long-lasting and are frequently used in living rooms.
Best For: Creating a rich and traditional flooring appearance both indoors and out.
6. Wooden Strip Tiles
As the name suggests, wood strip porcelain or wooden plank tiles are floor tiles with wooden strips in various patterns and designs. This will give the overall space a classy and vintage appearance.
Best For: To achieve the ideal balance between appearance and durability. Wood strip floor tiles for living rooms have a sophisticated appearance while also being extremely durable.
7. Rocker Finish Floor Tiles
Floor tiles with a rocker finish have a rich and elegant appearance as well as incredible strength. Because of its scratch and stain resistance, it is suitable for both indoor and outdoor structures.
Best For: Adding a modern touch to both your indoor and outdoor spaces.
In addition to these finishes, there are a few other finishes for floor tiles for living rooms, such as Kashmiri punch floor tiles and high gloss floor tiles, to name a few. So, begin the flooring redesigning process by choosing the best finish from these 7 options based on your taste, the architecture of the space, the durability of the tiles, and your budget.
After you've decided on the finish, consider other factors such as tile size, pattern, color, room size, grout, and so on. In the following section, we will look at each of these factors and how they affect the overall appearance of the place.
3 Things To Consider When Choosing Floor Tiles For Living Room
When it comes to selecting the proper floor tiles for living room or any other area, the options are virtually limitless. You can obtain everything you want, from a variety of colors and textures to different designs and sizes. However, every style or size of the tile is not appropriate for your specific use. You must select your tile carefully so that it does not stand out from the rest of your home's decor.
As a result, some helpful tips are provided below. These will assist you in selecting the right floor tiles for the living room. Here are three major aspects to consider while selecting floor tiles for living room.
1.
Which Color Tiles Should I Use?
Choosing the proper color is critical when selecting floor tiles for living room. Lighter colors make a room feel larger and increase natural light, which is especially useful in places where you spend a lot of time throughout the day. Dark hue tiles may be a great complement to a living room or open-plan space with an abundance of natural light.
Once you've decided on a color, think about your grout lines. For Example, choosing dark grout lines for your floor's darker tiles can have a significant aesthetic impact. So create a unified aesthetic across your room, make sure your grout lines are consistently spaced and the color of your grout matches the color of your tiles.
2.
What Features Should You Keep In Mind?
Before buying tiles for your living room, you need to pay attention to the features of the tiles. Because the floor tiles for living room will be faced with frequent foot traffic, the most important consideration is that the tiles must be slip resistant, ensuring that they are safely suited for children and the elderly. Another aspect is that living room floor tiles be stain-resistant so that any form of stain may be easily removed.
These qualities will help the tiles stay longer and keep their shine. Another important factor to consider before purchasing tiles for installation in your living room, particularly on the walls, is their resistance to moisture and ability to avoid leaks. This is a key aspect that will prevent moisture and make your walls seem as good as new for years to come.
3.
Choosing the Right Size
Size is important when it comes to floor tiles for living room. Floor tiles come in various finishes and sizes, and your choice may impact how big (or small) a space appears. The size of the tiles have a big influence on whether your room will seems smaller or larger.
For example, if you're looking for floor tiles for a small living room, large sizes like 600x1200 mm and 600x600mm should be considered. Large tiles are ideal for bigger spaces. In general, larger tiles assist to give the sense of more space in both large and small spaces.
Furthermore, larger tiles offer a more current and trendy appearance than smaller tiles. If you choose bigger tiles in light hues, your space will appear very light and spacious. Creating a pattern with huge tiles will add interest to your floor and make your area appear larger.
We hope you now understand better how to choose durable and robust floor tiles for living room. By following the above tips, you will be able to select one of the greatest tiles for your home's living room space.
Graystone is a prestigious and leading porcelain tile manufacturer in India, producing and supplying a wide range of porcelain tiles with various designs and patterns to customers worldwide. Some of the factors that enable us to produce the best tiles for living room floors at an affordable cost include advanced technological support, world-class infrastructure and manufacturing capacity, and field expertise. Contact us to learn more about our products.