9 Benefits of Porcelain Tiles that you've Never Heard Before!!
You don't need an introduction to porcelain tiles if you work in the tile industry, the construction industry, or architecture. However, if you are a common man or a homeowner looking to renovate your old kitchen, living room, or entire home, possibilities are very bleak that you are familiar with the latest tile type known as porcelain tiles. For this reason, we've decided to make you aware of this unique and outstanding tile type.
We have compiled a list of 9 benefits of porcelain tiles that will not only make you aware of their qualities but will also convince you that porcelain floor tiles are the best option. Let's get started.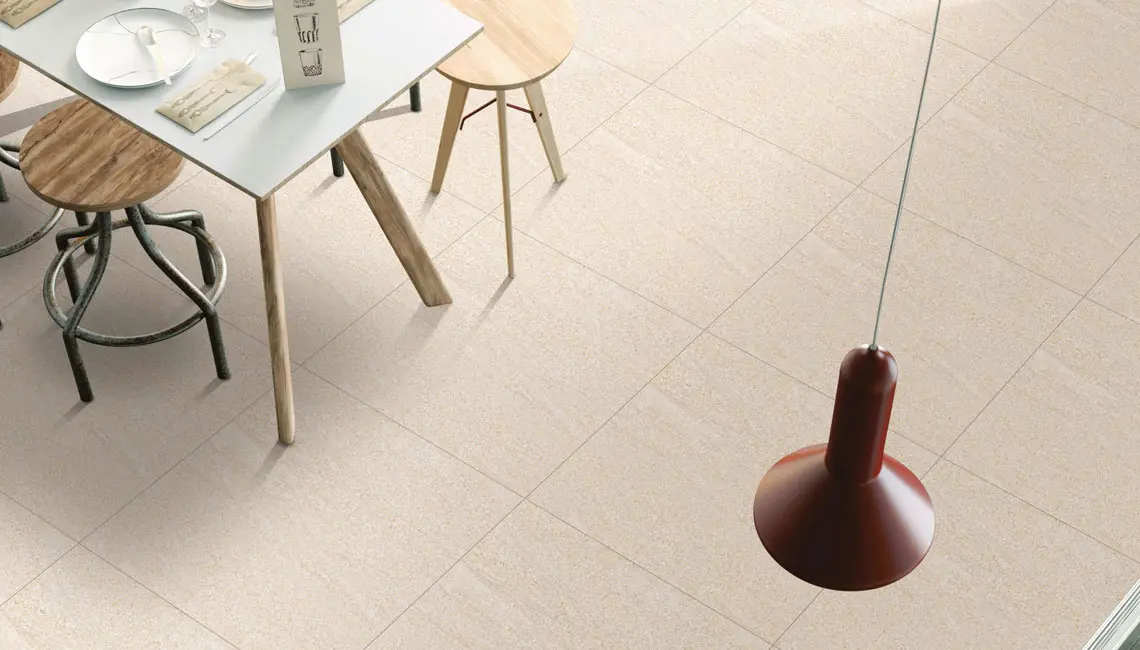 9 Amazing Benefits of Porcelain Tiles
The top 9 impressive benefits of porcelain tiles are listed below. Let's take a quick look at each of them.
1.
Durable and Long-lasting
The first key benefit of porcelain tiles is that they are extremely durable and have a long life span when compared to other types of tiles, such as ceramic tiles. Since porcelain tiles are made of high-quality raw materials such as kaolin clay and go through multiple processes to increase their strength, the resulting tiles are extremely long-lasting in nature.
Overall, the durability helps you save money on maintenance since you won't have to replace the tiles for at least a decade or more.
2.
Able to Mimic Other Textures
Another advantage of porcelain tiles is that they can convincingly imitate various types of classic flooring materials, such as marble, granite, wood, or even steel, bamboo, or cork. These will broaden its design palette. Furthermore, all of these impersonations can be nearly indistinguishable from the actual thing in terms of appearance.
Moreover, the flexibility of porcelain tiles allows you to design a variety of various patterns at a significantly lower cost. In a nutshell, you not only get unique flooring, but you also receive the benefits of porcelain tiles at a low cost!
Porcelain tiles also feature a stain-resistant surface, which ensures that the tile's quality is not compromised. Unlike stone floors, which must be sealed to protect the surface from deterioration, porcelain tiles do not require any of this effort. The stain-resistant surface also allows these tiles to be used in kitchens. Porcelain floor tiles are also resistant to household chemicals and can be cleaned with relatively tough cleaners.
In a nutshell, porcelain tiles are stain-resistant, chemical-resistant, and slip-resistant.
4.
Able to withstand High Footfalls
Porcelain tiles are one of the most durable flooring options for high-traffic areas or commercial establishments. Since the porcelain tiles have a PEI (Porcelain Enamel Institute) rating of at least 5, they are excellent for high-traffic areas such as the drawing-room, kitchen, or even other outdoor settings.
Moreover, if a section of tile is damaged, you will only need to repair that tile rather than the entire flooring, as is the case with wood flooring. This ultimately offers porcelain tiles an edge, making it a great choice for flooring in high-traffic areas.
When choosing floor tiles, one of the most important elements to consider is the design or pattern. Porcelain tiles, fortunately, perfectly meet this requirement. Moreover, the glazed porcelain tiles take the designs to the next level by enabling 3D printing. Overall, the wide variety of patterns and designs offered by porcelain tiles allows clients to pick the best porcelain tiles that precisely meet their style.
For example, if you are looking for a flooring option that complements your traditional home décor, porcelain tiles are a great pick. Similarly, if you are looking for a flooring solution that goes along with your modern décor, you can also count on porcelain tiles.
6.
Low Water Absorption Rate
Porcelain tiles are extremely water-resistant. The 0.5 absorption rate makes the tiles an excellent choice for moist or rainy environments, as well as bathrooms and kitchens. Moreover, the natural stain and water resistance of porcelain contributes to the material's ease of maintenance.
The water-resistant quality of porcelain tiles makes them more durable because water cannot penetrate and damage the tiles. It also prevents algae growth and protects tiles from quality deterioration.
7.
Require Minimal Maintenance
Porcelain tiles require the least amount of upkeep when compared to other types of tiles. These tiles do not require any special care or treatment; all you need to do is simply sweep them on a daily basis. If you used it for the kitchen flooring, you could clean it up with water. Besides, If you spill something on the surface, all you have to do is add a drop of regular detergent and clean it away with a soft brush.
Moreover, even if a tile suffers damage, an individual porcelain piece can be easily removed and replaced.
Yes, porcelain tiles can be matched or paired with nearly all types of décor or architecture. It can be paired with a traditional setting, a modern setting, a contemporary setting, and a number of others. As a result, when it comes to porcelain tiles, you don't have to be concerned about the flooring option.
Moreover, the various finishes that porcelain tiles offer, such as stone look, wooden strip, fusion, and others, let you experiment with your place and give it a perfect look that it deserves or that you are aiming for.
Above all, porcelain tiles are affordable. Yes, it can meet any budget, big and small. When you decide to buy porcelain tiles to redecorate your house or workplace, the last thing you should do is worry about your budget. For example, if you want to give your home a wood look but don't have the budget for hardwood flooring or are concerned about its environmental impact, you can opt for porcelain tiles.
So these are the 9 key advantages of porcelain tiles that demonstrate why they should be your first choice when it comes to flooring.
Summary: Graystone ceramic offers a large collection of porcelain tiles in various finishes and sizes, such as fusion finish, wood-strip finish, matt finish, stone look, and others. In addition, our collection also features a range of tiles that are suitable for a variety of areas, including living rooms, bedrooms, kitchens, and others.