6 Remarkable Porcelain
Floor Tiles Finishes & Their Applications
Porcelain floor tiles are gaining popularity more than ever. These tiles are becoming increasingly famous among homeowners and architects alike due to its array of benefits. However, many of them are unaware of their applications, such as where to use them or which finish is suitable for which area or room.
For this reason, to assist them, we have compiled a list of 6 different finishes of porcelain tiles, as well as their respective applications. So, without further ado, let's get started.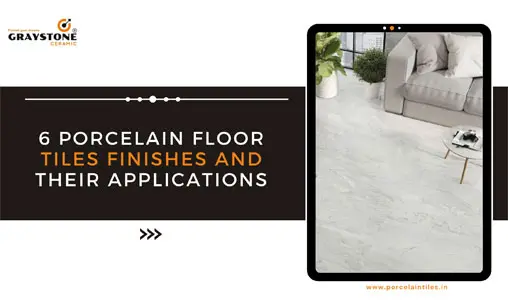 6 Stunning Porcelain Floor Tiles Finishes and Their Applications
A.
Matt Finish Porcelain Floor Tiles
The first name on our list of porcelain floor tile applications is Matt tiles. When it comes to flooring, matt tiles have always remained in demand because of the various qualities they possess. When you select matt tiles for flooring, you may expect multiple benefits such as a longer life span, a spectacular appearance, compatibility with the surroundings, and so on.
Moreover, matt porcelain floor tiles are a striking shade of nature and provide a realistic look while being lightweight and simple to install. In addition, matt tiles can conceal smudges, stains, and cracks well than gloss finish tiles. It will eventually require less care and upkeep, saving you money!
Ideal For: Outdoor area, commercial area, hallway, kitchen, bathroom, terrace, patio etc.
B.
Fusion Surface Porcelain Floor Tiles
Porcelain tiles with a fusion surface are made by blending matt and gloss in veins. These carving effect tiles include crevices and grains across the surface, which are only found in natural marbles and wood. These tiles will be an excellent choice for flooring if you want to try something new or experiment with décor and style.
Fusion finish porcelain floor tiles will eventually add a rich and unique touch to your room, making it stand out from the crowd. Moreover, because fusion surface tiles have an even surface, they are easier to clean than matt tiles. In addition, when you buy fusion floor tiles from Graystone Ceramic, you will have access to various sizes, including 600X600mm with a thickness of 9mm.
Ideal For: Bedroom, living room, drawing room, dining room, hallways etc.
C.
Stone Look Porcelain Floor Tiles
If you want stone flooring but don't have the budget, stone look porcelain tiles are the perfect alternative. These tiles are a fantastic substitute for natural stones and can be used for both indoor and outdoor flooring. Moreover, its design and printing are so precise that it would be difficult to distinguish it from genuine stone flooring.
In terms of physical properties, stone look porcelain floor tiles are highly durable and resistant to heat, stains, scratches, and other elements. All of these characteristics make them an excellent choice for both outdoor and commercial flooring.
Additionally, since these tiles are available in three various thicknesses–9mm, 12mm, and 15mm–you may select the best one based on your specific needs.
Ideal For: Bedroom, living room, drawing room, kitchen, dining room, hallways, patio etc.
D.
Wood Finish Floor Tiles
Whether it's the late 1980s, the year 2000, or 2021, wood finish tiles are always in demand. These tiles are popular for various reasons, including the fact that they do not damage the environment in the same way that wooden flooring does, are more durable, are easier to install, and come in multiple colors and textures. All of these advantages add up to make them the ideal flooring choice for those who prefer natural aesthetics.
Moreover, unlike with wooden flooring, if you damage or break any wood finish floor tiles, you will not be required to replace the entire floor. Instead, all you have to do is replace that specific tile, and you're good to go! Additionally, these tiles are available in various colors and designs, allowing consumers to pick the best that perfectly matches the theme.
Ideal For: Bedroom, living room, kitchen, drawing room, workplace, dining room, hallways etc.
If you want to add uniqueness to your wood floor tiles, consider using wooden strip finish porcelain floor tiles. These tiles, as the name implies, feature a stripe design or pattern on the surface. Again, these tiles are available in various colors and shades, including brown, beige, cedar, maple, and others. Ultimately, the variety of hues allows consumers to select the ideal color wooden strip floor tiles for their home or office.
Additionally, just like wood finish porcelain floor tiles and other porcelain tiles; wooden strip tiles have a variety of remarkable qualities such as higher durability, resistance to scratches and weather odds, and a longer lifespan. Considering all of the advantages of porcelain tiles, it is recommended that you choose porcelain tiles over natural wood flooring.
Ideal For: Bedroom, living room, workplace, drawing room, dining room, kitchen, hallways etc.
Indian Finish is the last finish on our list of porcelain tile applications. Indian look tiles are those with rich Indian traditional patterns and motifs on the surface. Meaning, if you adore the heritage style or want to give your home a rich appearance, Indian finish porcelain floor tiles are an excellent option. Some well-known Indian finishes are 3D look tiles, Book match collection, Kashmiri collection, and Galicha collection.
Again, these collections include a variety of additional patterns such as elliptical wood, flour will, Kashmiri ivory, black current, and many more. To explore the complete range of the Graystone Indian finish collection, visit porcelaintiles.in Moreover, like all other porcelain floor tiles, Indian finish tiles are long-lasting, less porous, and resistant to stains and scratches.
Ideal For: Bedroom, living room, drawing room, hallway etc.
So these are the six different porcelain floor tile finishes and their applications. We are sure that this information will benefit you in picking the best porcelain tiles for the floor.
Graystone Ceramic is a well-known porcelain tile manufacturer in India, specializing in a variety of tile finishes. The company produces high-quality tiles in India and exports them all over the world. Contact us to know more about Graystone's product line, export countries, and success mantra.