The selection of a tile is a very big deal. As you walk on it every single day there are various factors that you have to consider while you choose the floor tile. If you pick a durable, stylish, and impressive tile for your floor then it creates a great impression and gives it a long life.
Porcelain floor tiles prove that it is an ideal and essential choice for flooring because of their characteristics and benefits. It provides a low water absorption rate, less maintenance, high durability, Stain and scratch-resistant surface with versatile designs.
Let's take a look at how to choose porcelain floor tile to make your floor more luxurious and beautiful.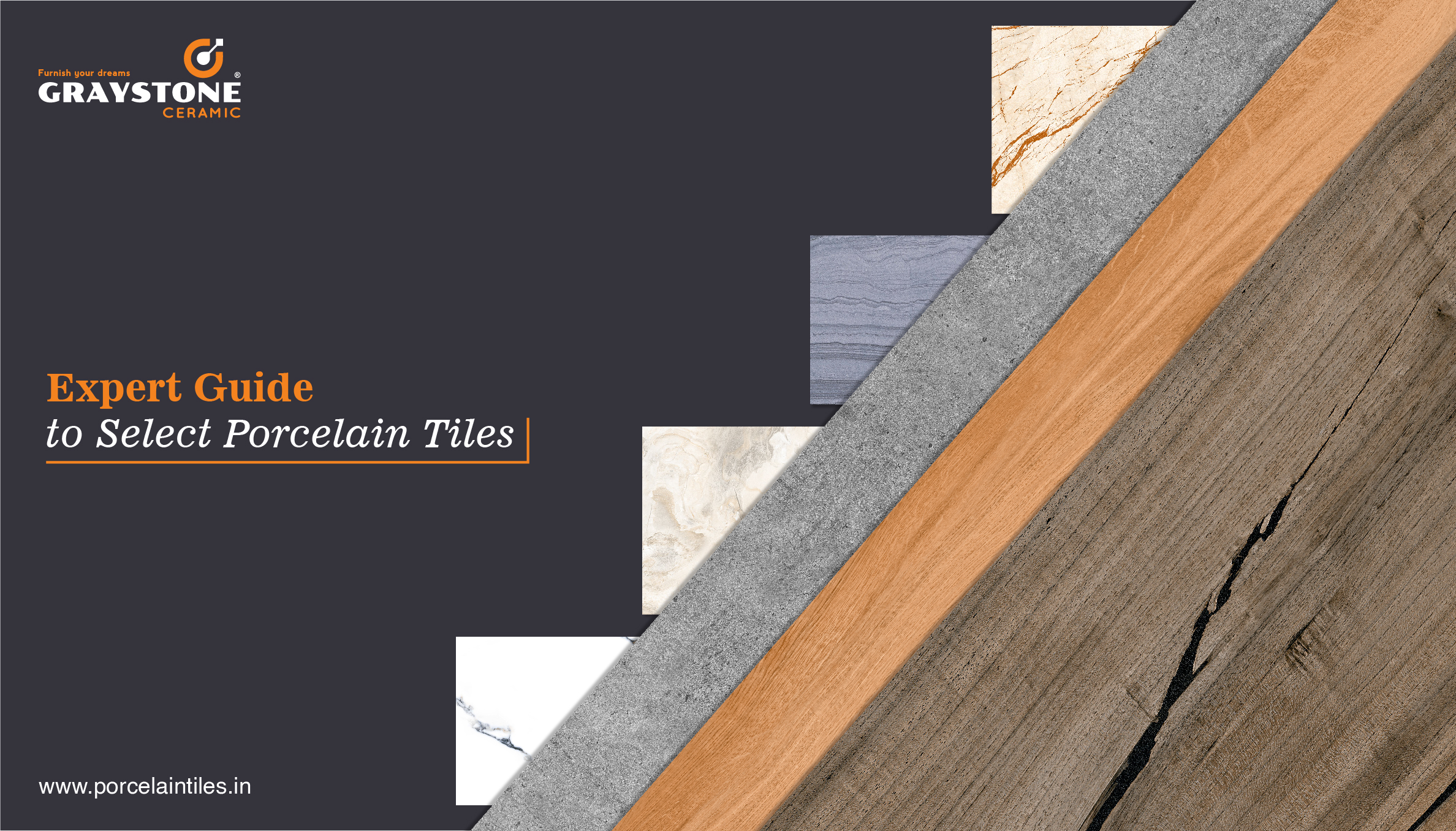 How to select Porcelain Floor tile?
Here, we mention 5 steps that help you to select the porcelain floor tile.
Step 1.
Check the Grade of the tile.
The grade of any tile is measured by its PEI rate. It is necessary to pay attention to PEI rate when you choose any floor tile. PEI is the abbreviation of Porcelain Enamel Institute, which gives the rate based on the durability of tile.
It can be classified into 5 classes. The first-class tiles are suitable only for walls, are not intended for the flooring and second-class tiles can be used in very light traffic areas. The third and fourth classes can be used only in the residential area, but the fifth class tile is used in residential and heavy commercial foot traffic. Porcelain floor tile has a fifth class rate, which means it can be used in indoor, outdoor, and high traffic areas.
Step 2.
Select the type of tile.
It is very important to select the best type of tile for your area. There are mainly two types of porcelain tile. Both types of tile are ideal and suitable according to the needs and area.
First is the Unglazed tile which gives the slight texture, rustic look, and matte finish surface. It also gives a slip-resistant and stain-resistant surface. The second type of porcelain tile is Glazed tile which is a more suitable and versatile tile. On the glazed tile, you can digitally print any kind of pattern which works damn better.
Step 3.
Choose the right Size.
Size always matters a lot. When it comes to the selection of tile it is necessary to choose the correct size for the particular area with minimum wastage during installation. Porcelain tile is available in two different sizes- 600x600mm and 600x1200mm.
Large size tiles impart a large space feeling and create very less grout line, while the small size tiles give a creative look with more grout lines. The smaller Porcelain tile 60x60 cm is appropriate for the kitchen, bathroom, and living room.
Step 4.
Pick the ideal Finish and Layout.
The finish of any tile gives the look you want for your room. Glossy finish tile adds brightness by reflecting light and gives spacious look. The matt finish does not show stain and dust easily. The matte floor tile is ideal for the bathroom and kitchen because it is slip and stain-resistant. The stone look tiles give exceptional durability.
The wood finish tile has a range from cherry to bamboo, which gives naturality, luxuriousness, and warmness to the space. It is also resistant to damage, dents, cracks, and scratches. The wooden porcelain tile is suitable for the living room, kitchen, and entryways.
Step 5.
Select the design and color of the tile.
With today's digital printing and 3D technology, flooring tiles are available in a bunch of varieties for interior and exterior as well. You have to do extra care for selecting a pattern and a color of tile because it reflects your choice and personality.
There are various patterns with different textures in porcelain floor tiles for outdoor and indoor such as Hazira, Corten, Hamton wood look, and many others. Even porcelain tile can be available in Gray, Brown, Light brown, blue, white, and others colors.
Summary: Graystone ceramic is an expert and leading manufacturer of Porcelain floor tiles. We deliver qualitative Floor tiles with exceptional durability and long life in over 25 countries across the world. Explore our collection for more details.