Porcelain Tiles Vs Ceramic Tiles: Which is Right for You?
Porcelain Tiles vs Ceramic Tiles: Comparison
Tile is the ideal choice for any flooring due to its striking look, high durability and low maintenance. Ceramic tiles and porcelain tiles are prominent and suitable options among other tiles. But they are both similar in appearance, used for the same applications and the features are also comparable. So it's a bit difficult to choose between the two.
Let us know, how ceramic and porcelain tiles differ and also compare the characteristics of both.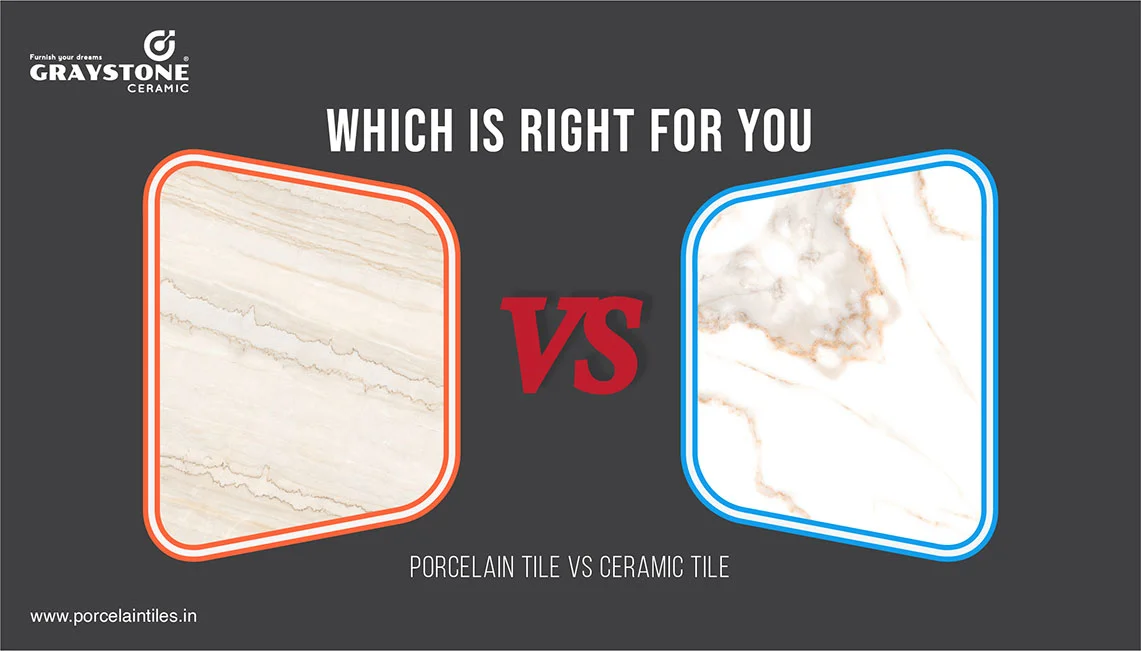 Difference Between Porcelain Tile and Ceramic Tile
Ceramic and Porcelain tiles fall into the same category known as ceramics. Both of these tiles generally have a glazing surface but some tile manufacturers also make unglazed ceramic tiles. They both are almost looks similar. Therefore porcelain tile and ceramic tile can be distinguished by some technical parameters which are the production process and water absorption rate.
Porcelain floor tile is made using a special mixture of kaolin clay while ceramic floor tile is made from coarse clay and fine kaolin clay. In this process, a porcelain tile is fired at a temperature of 2,200 to 2,500 Fahrenheit, while ceramic tile is fired at a maximum of 1,650 Fahrenheit temperature.
The water absorption rate of porcelain floor tile is usually 0.5 percent or less whereas the water absorption rate of ceramic tile is more than 0.5 percent. In terms of properties, porcelain floor tiles are harder than ceramic floor tiles and have better water resistance.
In a nutshell, after knowing the difference between the two, let us see which one is better in terms of appearance, durability, maintenance, and more.
Porcelain Tiles vs Ceramic Tiles: Comparison
At first glance ceramic and porcelain floor tile look almost identical as both have glazed surface coating which makes them shiny. But due to the enormous innovations in the manufacture of porcelain tiles, it is available in more finishes than ceramic tiles. The tiles that look like natural stone and wood are quite popular, while ceramic tiles are mostly available in solid colors and patterns.
So, Porcelain floor tile is superior in terms of appearance as it is available in more colors, and patterns than ceramic floor tiles.
The kaolin clay material used in the manufacture of porcelain tiles. It is denser and less porous than ceramic clay. Which makes this tile more rigid and impervious to moisture. So explicitly, porcelain floor tiles prove to be a more convenient and suitable option for any flooring than ceramic floor tiles.
If you are choosing tile for commercial or high traffic areas then porcelain tile should be your first choice.
3.
Water and Heat Resistance
If you are looking for tiles for outdoor space then it is essential to be water and heat-resistant. Porcelain and ceramic, both tiles are water-resistant but porcelain tile absorbs less water and is denser due to its manufacturing process and composition. So it contains better water resistance than ceramic floor tile.
In addition, porcelain floor tiles are made at very high temperatures and are also very dense. Both of these factors make the tile an appropriate heat resistant. Due to this characteristic, it is also used for countertops.
4.
Cleaning And Maintenance
Porcelain tiles require very less maintenance than ceramic floor tiles. If the edge or surface of the porcelain floor tile is somewhat broken, it is often overlooked. However, it does not break down quickly while ceramic tiles can break easily. So regular maintenance is required in it.
In terms of cleaning, You don't need any extra care in both of these tiles. These tiles have a glazed surface so the stains can be removed effortlessly. You can easily clean both of these tiles using just a water-soap solution and a clean cloth. But in unglazed ceramic tile, you have to be more attentive.
The installation method of porcelain and ceramic tiles is almost similar. But porcelain tile is heavier, thicker and harder so it may take more effort to cut or require an experienced person. While ceramic floor tiles can be cut with very little exertion. So ceramic tiles are better than porcelain tiles in terms of installation.
In 4 out of 5 points mentioned above, porcelain floor tiles outperform ceramic floor tiles. It proves that porcelain floor tile should be your first choice for your home, office, or outdoor flooring. We hope this blog will help you to choose the best tile for your home, office and other areas. If you want to learn more about tiles, check out our other blogs.
Greystone Ceramic is a reputed and globally acclaimed porcelain floor tile manufacturer from India. We manufacture 6 different popular finishes such as matt finish, stone look, wood finish, and wooden strip in sizes of 600x600mm and 600x1200mm. For more details, see our product collection.