Flooring is a critical component of the architecture that must not be overlooked. Floor tiles, like all other elements and factors related to décor, must be given equal attention. However, it should be noted that choosing the perfect floor tiles is not a challenging task.
All you have to do is follow the tips listed below and have a fundamental understanding of porcelain tiles' characteristics, advantages, and limitations. In this blog, we'll go over some suggestions to keep in mind when looking for wood floor tiles.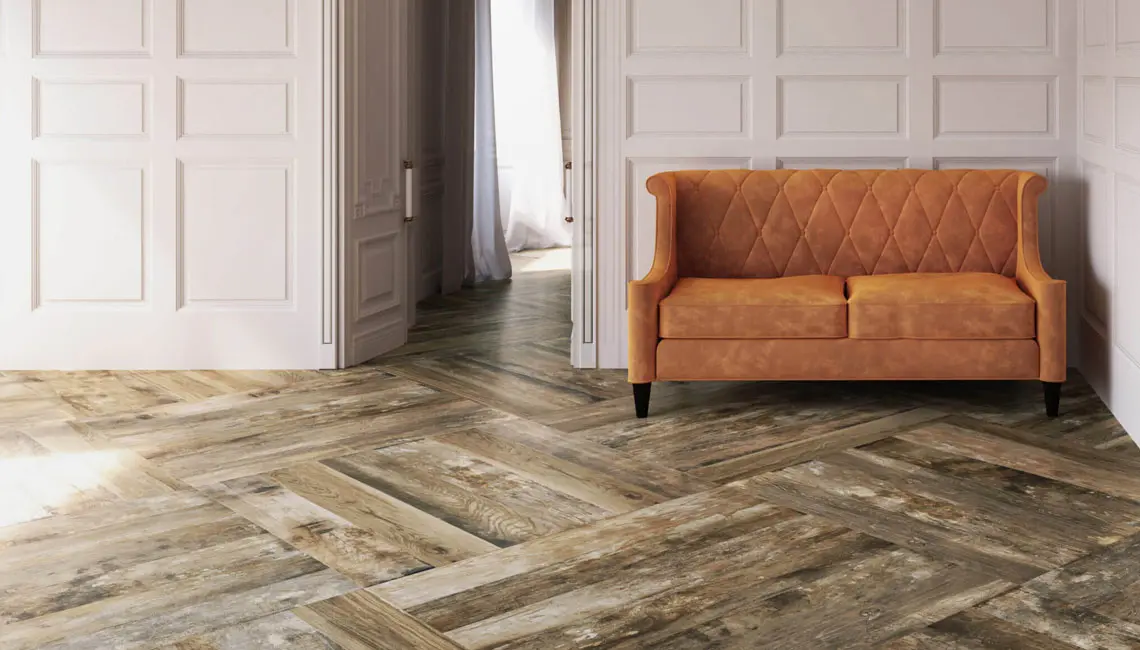 Factors to Keep In Mind When Choosing Wood Floor Tiles
1.
Ensure Wood Floor Tiles Are Durable
The first thing you should look for when selecting the right wood floor tiles is their durability. Durability is related to the overall quality, thickness, and smoothness of the tiles' surface. The tiles should ideally be scratch-resistant, weather-resistant, and stunning in look.
The high durability also has a number of advantages, including fewer maintenance costs and keeping the space in good shape for a long period of time. So, when choosing wood floor tiles , make sure they are long-lasting. We recommend that you choose porcelain tiles over ceramic tiles since they are more durable.
2.
Ensure Wood Floor Tiles Matches The Theme & Décor
The second thing you should look for when selecting the best wood floor tiles is that it complements your theme and décor perfectly. Choosing the wrong tiles to save money is a serious mistake that you must avoid. It is advisable to invest a little more money and get the perfect design or pattern that complements the entire setting.
If you are unsure about which colour or pattern would look best with your space and décor, you can consult an architect or read some blogs to make an informed decision. However, in no circumstance should you select a pattern or tiles that degrade the overall look of the space.
3.
Ensure Wood Floor Tiles Enact The Natural Wood Perfectly
One of the primary reasons for choosing wood floor tiles is to replicate a natural wooden floor. However, since natural wooden flooring has a number of drawbacks, including a negative impact on the environment, high product and installation costs, and complex maintenance, it is preferable to use wooden floor tiles instead.
But, be sure that the tile colour and pattern you choose are able to procreate the natural wood impression. Always take your time in selecting the appropriate pattern or colour that complements your décor and has the potential to recreate the natural wood effect.
4.
Ensure Wood Floor Tiles Are Perfect In Size
When it comes to flooring, size does matter. As there are several sizes available, you must select the one that you believe is best for that specific place. Nevertheless, keep in mind that each room or area necessitates a distinct floor tile size. For example, you will require a particular tile size for the kitchen, as well as a different tile size for the living room.
So, if you're looking for wood floor tiles for a living room, we recommend 600x600mm or 600x1200mm tiles. Similarly, for the kitchen, we suggest 600x600mm floor tiles. Overall, choose the tile size based on the area type.
5.
Ensure Wood Floor Tiles Are Easy To Clean
The next factor to consider when buying wood floor tiles is their ease of cleaning. Since floor tiles often get dirty, they necessitate some sort of cleaning on a regular basis. For this reason, always choose indoor floor tiles with a smooth surface. The rough surface texture of tiles may appear beautiful, but it is often difficult to clean, especially when used in the kitchen
We recommend that you use porcelain tiles for the floor since they have a smooth surface and are easier to maintain than ceramic tiles. All you have to do is a broom and mop them once a day.
6.
Ensure Wood Floor Tiles Are Water-Resistant
Water retention is one of the primary causes of tile degradation that ultimately shortens their lifespan. Fortunately, porcelain wood floor tiles are exceptionally water-resistant, with a 0.5 percent water absorption rate. This means that you should prioritize porcelain tiles for the floor over any other tiling alternative.
Besides, it is also recommended that you wipe away any extra water after cleaning the surface to avoid water puddles. If water accumulates in one spot for a long period of time, it will have an adverse effect on the health and quality of the tiles.
7.
Ensure Wood Floor Tiles Are Affordable
If you find wood floor tiles that meet all of the conditions mentioned above, there is one more factor to consider– cost. Yes, be sure that the tiles are affordable or within the price range that you expected. If you realize that the prices are considerably higher than you thought, it is best to hunt for another porcelain tile manufacturer that offers the same quality tiles at a lesser cost.
However, this does not mean that you should choose low-quality wood floor tiles only to save money. Keep in mind that this is a one-time investment. Spending a little more money and getting high-quality tiles is better than picking low-quality tiles at first and then spending money on maintenance on a regular basis.
So those are the 7 things you should keep in mind when looking for wood floor tiles. You may also read our other blogs on wooden floor tiles to gain more information and make an informed decision.
Summary: Graystone is a well-known porcelain tile manufacturer in India. The company has superior technical support and infrastructure that have enabled him to make the highest quality porcelain tiles. Visit the Graystone website to learn more about products, policies, and expertise.