Choosing the right floor tiles for the house is an exacting and very inevitable factor that can define the aura of the area. There are lots of options in the market for the floor but you must pick the correct one. For that, we suggest that porcelain floor tiles is the best for flooring, especially matt floor tiles, wood look floor tiles, and others.
You must be aware of the pros and cons of matt floor tile that you select for your area. Firstly, let's discuss the pros of matt floor tiles.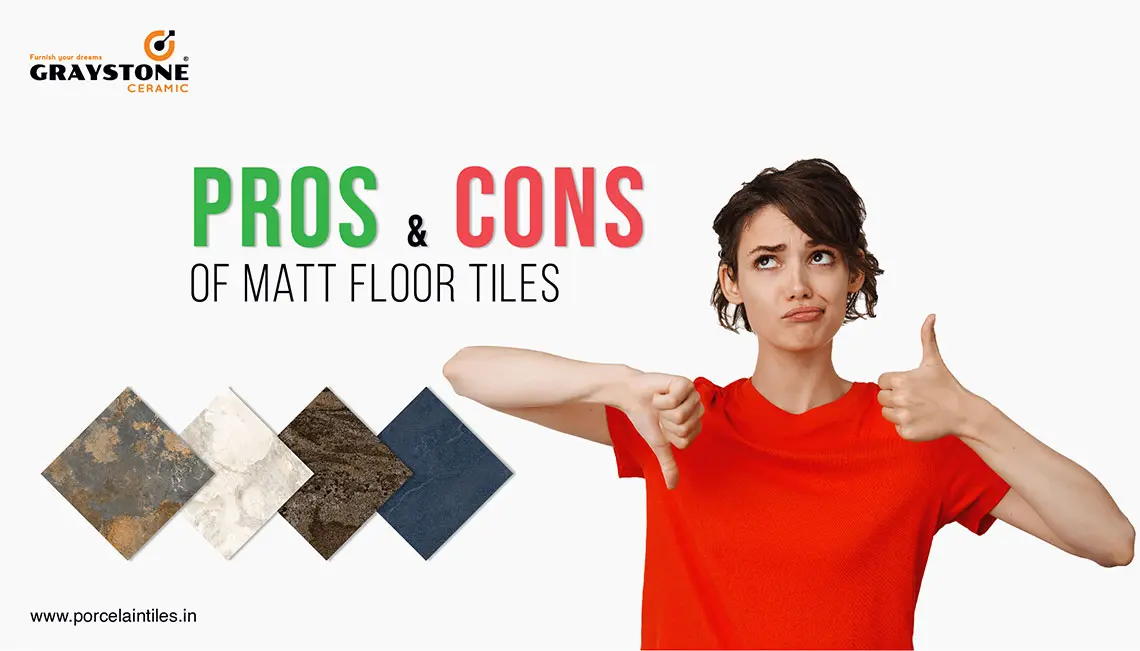 1.
Resistance to Humidity
The matt floor tiles have a decent non-slippery surface. With this benefit, it is ideal for bathrooms, kitchens, and other wet areas. There is very less chance to get skidding because these tiles have a better friction than others. These porcelain floor tiles can provide security for kids, elders, and pets.
2.
Suitable for indoor and outdoor
Because of its exceptional strength, the matt floor tile is perfect for indoors and outdoors spaces. Even these porcelain tile has a high PEI ratio so it is preferable for high foot traffic. Also, it provides a very esthetic and luxurious look to the area and makes a great choice for office and home.
The matt floor tile is high resistance to scratches and abrasions. One interesting fact is that these floor tiles did not show a speck of dirt and debris like the glossy tiles. It does not require to daily wipe. Therefore these porcelain tiles 60x60cm is appropriate for bathrooms, kitchens, and other areas.
4.
Standout with every decor
Along with the various patterns and colors, the matt floor tiles can be matched with any kind of furniture and other interiors. The design and texture of this tile give a natural rustic look to the area. This character makes these tiles ideal for the living room, as it is the most used place and can make an impression.
5.
Perfect for the soothing zone
It is fact that your attitude and aura can be judged by the selection of the color and texture of the tile. You must choose the tile accordingly to which kind of atmosphere you want to create for the particular or entire area. The matt floor tile has very tranquil colors such as grey, white, brown, and more which can help to make a soothing zone.
These are the benefits of matt look tile which can make the area beautiful and eye-catchy. Along with the pros, there are some cons which you also need to know.
So, let's discuss the cons of matt floor tiles.
1.
Worst choice for a darker room
As the matt floor tiles are not reflective, it does not make any sense to use these tiles in the darker room such as the basement. In a basement, there is needed to have a presence of light and reflection. But still, if anyone wants to use it then it is suggested that they must choose a very bright color from the collection of matt tiles.
2.
Harder to stubborn stains
As it is mentioned above, the matt floor tiles do not worry about frequent cleaning you can clean them once or twice a week. It is not as easy to clean the matt tiles as glossy tiles because it has not have a glossy and smooth surface. But you can choose the matt floor tile with a simple texture so it is quite easy to clean dirt and debris on it.
3.
Hide but do not prevent
With the help of matt floor tiles, you can easily conceal the scratches and stains but do not prevent them. If any ultra heavy thing lefts a mark on it. Also, the greasy, oil fingerprints and spill can be profound on it but the twice or thrice cleaning can prevent it.
So these are the disadvantage of the matt tiles that also you have to take care of at the time of selection of tile for your area. This tile is available in two different sizes, porcelain tile 600x600mm and porcelain tile 600x1200mm. Mostly, the porcelain tile 60x60cm is used for the bathroom, kitchen, room, balcony, and other areas of the home.
Graystone ceramic is the leading manufacturer of porcelain floor tiles and exports adobe floor tiles all over the world. Explore diverse designs and colors of matt floor tiles in our collection.