Top 7 Popular Applications For Wood Floor Tiles
Wood floor tiles are one of the most adaptable materials available right now. Customers really like these tiles. It's suitable for both floors and walls, as well as for decoration. The popularity of wood floor tiles was inevitable. It's more durable, less expensive, and comes in a variety of textures, colors, and tones.
Unlike natural wood flooring, wood floor tiles don't require any special care and with regular cleaning, they look like new for years. It is extremely durable and is a popular option for people who want a beautiful, timeless wood look. The wood floor tile just looks great with accent walls and countertops along with the floor.
Here are some popular applications of wood floor tile that can be used in your next project. But firstly, let's know what is wood floor tile.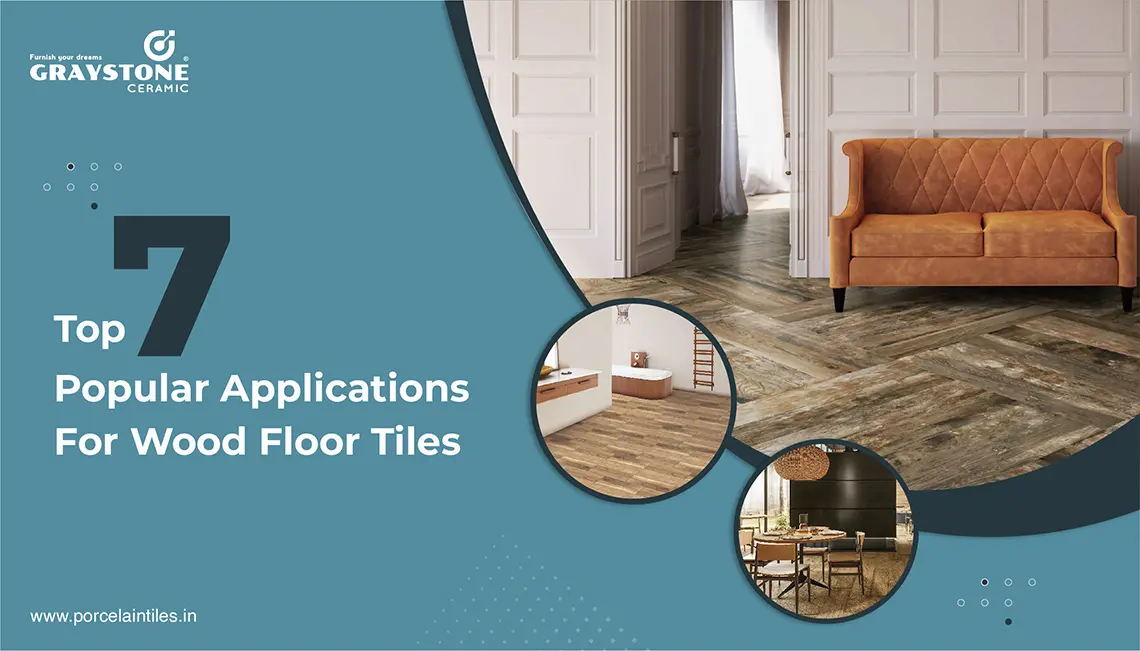 Wood floor tile is a type of tile that looks like real wood. It comes in a variety of patterns and is available in various sizes such as 600x600mm and 600x1200mm. Wood floor tiles are made of porcelain or ceramic material printed with wood-look graphics. It's a flooring option that's environment-friendly.
Wood floor tile is usually far less expensive than standard natural wooden flooring. There are additional benefits as well such as it is one of the most durable and easy to main flooring solutions available. Wooden floor tiles are weather resistant and do not lose color at extreme temperatures.
Now that we know what a wood floor tile is, let's see where it is used for.
7 Popular Applications of Wood Floor Tiles
Wood floor tiles have been incorporated into coastal designs and are also very popular for homes. For indoor open floor plans, wood flooring is ideal. It can be used to bring elegance, traditional charm, or just about any other design aesthetic. Wood floor tile is a timeless trend that quickly enhances any interior area. This tile provides an excellent background for painted cabinets, and quartz countertops, and complements glass splashbacks.
Tiles work well in indoor spaces, but they are also great options for outdoors. Upgrade an outdated patio area by putting wood tile around your pool. It is the perfect option for outdoor living rooms and other outdoor spaces.
Wooden flooring is a great way to add a natural feature to your exterior design, but rain, storms, exposure to the sun, and other weather conditions can have an adverse effect on natural wood. While wood floor tiles are more hostile to every weather condition with a more natural look and durability. Therefore, wood floor tiles are weather resistant and can be to budget-friendly choice and convenient option than natural wooden flooring.
The look of wood in the shower gives a natural, warm and pleasant feeling but exposure to water and moisture spoils the attractiveness of natural wood. But with the advancement in the tile industry, the wood look tiles are available which are water-resistant and look exactly like natural wood.
These tiles are not only long-lasting and simple to install, but they also come in a variety of hues, from light to dark and everything in between. You can easily enhance the classic designs of showers by adding wood look tiles.
Wood floor tiles allow you to add amazing structural elements to your pool. Wooden tiles have a slip-resistant surface and are suitable for outdoor use. Aside from its versatility, This tile is require low maintenance, and regular cleaning will keep it looking wonderful for years.
Wood floor tiles combine the distinctive aesthetic attributes of natural wood with durability and utility. All this features of the wood tiles make it most suitable material for this comfortable space.
Paying some coveted attention to your corridor will ensure that the entrance to your home gives a great first impression. When it comes to selecting materials for corridor floors and walls, wooden tiles can provide a suitable covering for this high-traffic area, extending the life and elegance of your interior renovations. Wooden tile is also one of the most cost-effective home corridor makeover ideas because home corridors are typically smaller and require less furniture.
The aesthetic appeal of entryways is sometimes overlooked in favor of making these areas practical. Install wooden tile flooring instead of laminate flooring to give a bright entrance and make a fantastic first impression on guests. These tiles are stylish, durable, and easy to clean, making them ideal for the entryway.
The demand of wood floor tiles among homeowners and designers has grown significantly. People prefer to decorate their homes with wood tiles than any other type of tile. We hope that through this blog, you will gain a better understanding of how it can be used in a variety of applications. Now is your chance to use stunning wood floor tiles in your favorite space or area.
7.
Mudroom & Laundry Room
The laundry room and mudroom are two of the most difficult sections of the house to clean. Dirt, dust, and detergent are no match for the tenacity of wood floor tiles. Wood floor tiles are ideal for laundry rooms because it's so easy to clean and disinfect. These floors are especially useful when the laundry or mudroom extends into a hallway or entryway.
Graystone Ceramic is a globally recognized porcelain tile manufacturer based in Morbi. We are well known for the innovation of porcelain floor tiles not only in the domestic market but also in the international market. Check our diverse collection to know about our tile's different finishes and sizes.