5 Perfect Floor Tiles for Outdoor Landscape Design in India
5 Popular Floor Tiles For Your External Spaces
Where to Use Floor Tiles for Outdoor Landscape?
The outside of your home is just as significant as the indoors. Tiles are used on the inside and outside to emphasize the beauty of the floor. It is an excellent option for outdoor spaces since they are durable, easy to maintain, and more sturdy than pavers. There are many different types of available floor tiles for outdoor use, and they're all gorgeous and durable enough to withstand any weather condition.
The exterior space requires tile that is more durable than the internal space. Choosing the appropriate floor tiles for the outdoors may be challenging, and most people are confused about which one to choose.
Understanding some of the most popular floor tiles for outdoor areas can assist you in deciding on the appropriate surfacing material for your outdoor areas. So in this blog, we will look at the 5 popular outdoor floor tiles that are best for outdoor spaces.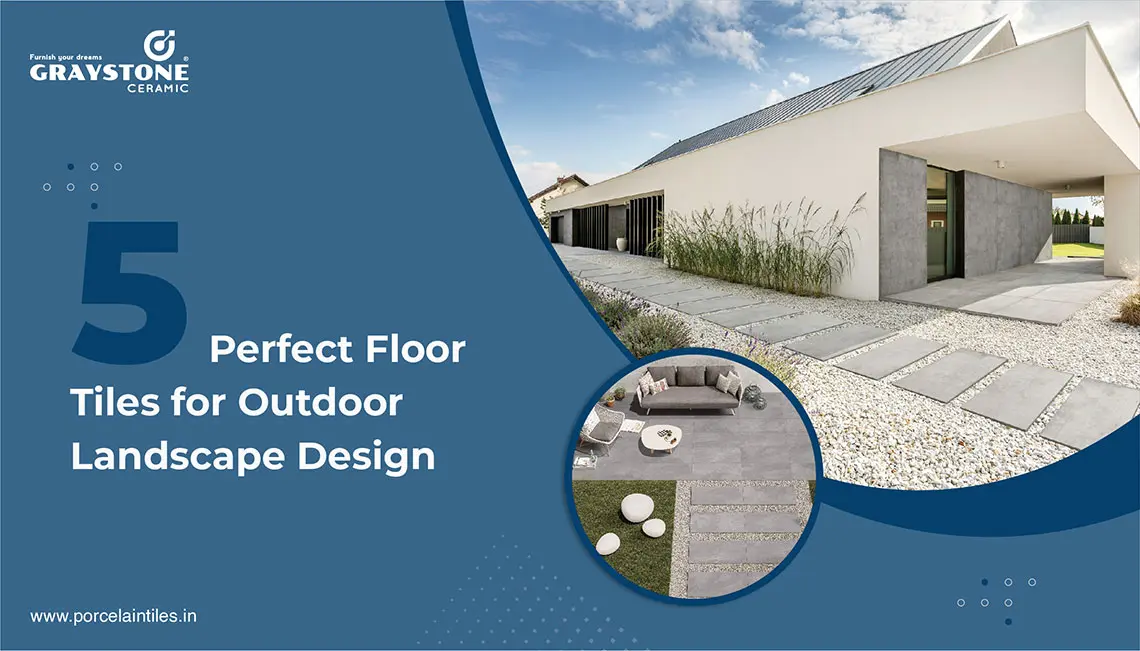 5 Popular Floor Tiles For Your External Spaces
There are various types of floor tiles for outdoor to choose from, so making a decision might be tough if you don't know what to look for. Here are 5 popular floor tiles for outdoor that will make your outdoor space more attractive.
1.
Stone Look Floor Tiles For Outdoor
The stone look floor tiles for outdoor use will give the place a luxurious yet natural appearance. These floor tiles have a similar appearance to actual stone but are significantly less expensive. Stone look floor tiles are durable. It is resistant to spills and high traffic, making it ideal for outdoor surfaces.
Stone look floor tiles are simple to clean. Unlike carpets, it does not harbor allergens, making it ideal for allergy sufferers. Aside from that, Stone look tile has all of the characteristics of porcelain tiles, such as high durability, low absorption rate, ease of washing, and so on.
Stone Look Floor Tiles feature a rustic matt texture, are incredibly durable, and come in three thicknesses: 9mm, 12mm, and 15mm. We offer these tiles in 600 x 600mm size. In addition, the variety of colors, designs, and multiple patterns available in these tiles allows you to choose the ideal tiles to complement your theme.
2.
Matt Floor Tiles For Outdoor
For outdoor flooring, matt tiles are an unrivaled choice. These floorings have a number of benefits including the ability to hide stains, smudges, and cracks, being slip-resistant, looking natural and rustic, being water-resistant, and durable.
In addition, Matt floor tiles for outdoor use do not need to be cleaned frequently, unlike other tiles. As a result, you will save money or time on maintenance. A matt floor tile is also resistant to harsh weather conditions and timely wear & tear. Whether modern or traditional, matt floor tiles are compatible with any exterior design.
Matt floor tiles are a great choice for outdoor flooring because of all of these characteristics. We offer these tiles in 600 x 600mm and 600 x 1200mm sizes each with a thickness of 9 mm.
3.
Fusion Floor Tiles For Outdoor
When you need a flooring solution that goes beyond tiles, Fusion Floor tiles should be your first choice. Matte and glossy surfaces are blended to create fusion tiles. These carving impression tiles include fissures and grains throughout the surface, which are only seen in real marbles and wood.
Choosing fusion floor tiles for outdoor usage can give you all of the benefits of natural marbles at a much lower cost. Cleaning and maintaining it is simple. There are also a wide array of colors available.
Fusion Floor Tiles will not only add a lavish touch to your space but will also make it unique. Our carving finish tiles come in 600X600mm size and 9mm thicknesses.
4.
Wood Floor Tiles For Outdoor
Wood finish floor tile is an elegant choice that gives an outdoor floor a natural look at an affordable price. In addition to being less expensive, wood floor tiles are eco-friendly, easy to maintain, and more sustainable than natural wooden flooring.
A wood floor tiles are weather-resistant, its colors do not fade in high temperatures, is non-porous, and has high durability. It is resistant to scratches and has extremely low maintenance. This tile gives your outdoor space a palatial atmosphere and will also last for many years.
At Graystone Ceramic we have a variety of colors, styles, and textures available in various sizes such as 600x600mm and 600x1200mm, with a matt surface.
5.
Wooden Strip Floor Tiles For Outdoor
The latest and most popular choice among architects and designers, wooden strip tiles are the ultimate pick if you want to experiment with wood flooring. These tiles, as the name suggests, portray a stripe design or pattern on the surface allowing designers to create a range of amazing layouts.
It is available in a wide range of wooden color hues including brown, beige, cedar, maple, and also other textures, facilitating interior designers to attain the desirable wooden effect and create the exemplary décor on a nominal budget. Additionally, just like wood finish floor tiles and other porcelain tiles; wooden strip tiles have all of the remarkable qualities such as higher durability, resistance to scratches and any weather odds, and a longer lifespan.
Our Wooden strip tiles are available in a matt finish and 600X600mm size.
Where to Use Floor Tiles for Outdoor Landscape?
The following are some of the greatest applications for outdoor floor tiles.
1.
Outdoor Floor Tiles for Gardens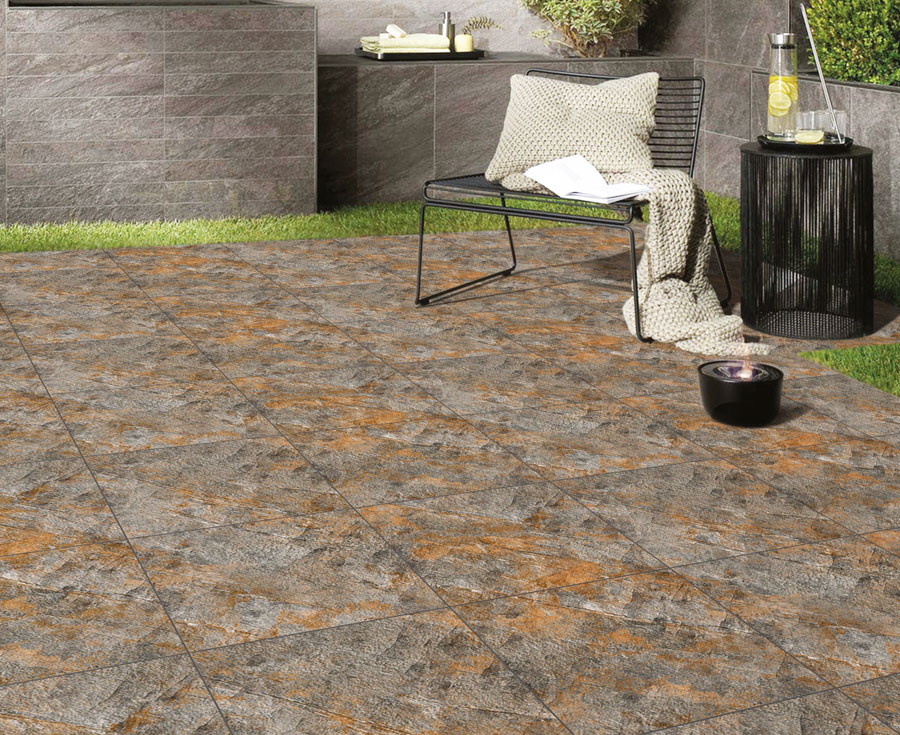 Floor tiles are an excellent choice for the garden. We have created many collections of porcelain floor tiles that can be used to construct paths on lawns for a well-made beautiful finish.
Stone look tiles have unique and exquisite designs and colors that can brighten up the outdoor landscape. Indeed, the variety of this tile effects is extensive. All you have to do is choose the floor tiles for outdoor that best suit your demands in terms of decoration.
2.
Outdoor Floor Tiles for Swimming Pool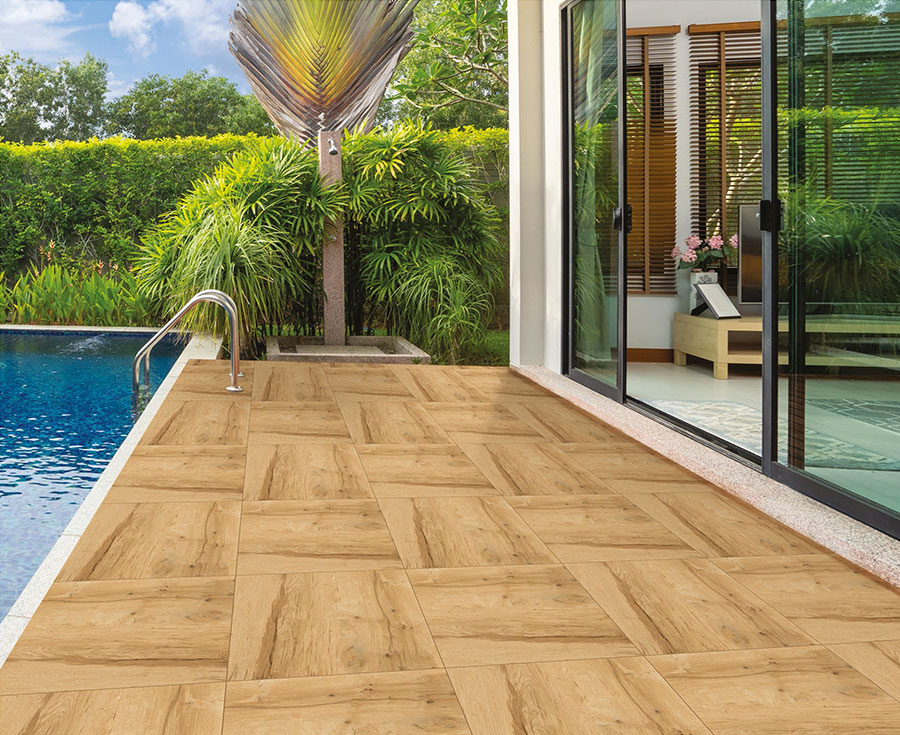 Choosing tiles for the swimming pool area is difficult since they must follow certain guidelines in order to provide a safe environment. The pool area is usually utilized for sunbathing and resting. To begin, the tiles must have non-slip capabilities to eliminate any chance of slipping, especially near the pool where the floor can frequently be slick.
Wood floor tiles are a perfect choice for pool area flooring since they are slip-resistant, water-resistant, and long-lasting. This tile is a perfect choice for the swimming pool area as it gives a beauteous and splendid appearance.
3.
Outdoor Floor Tiles for Balcony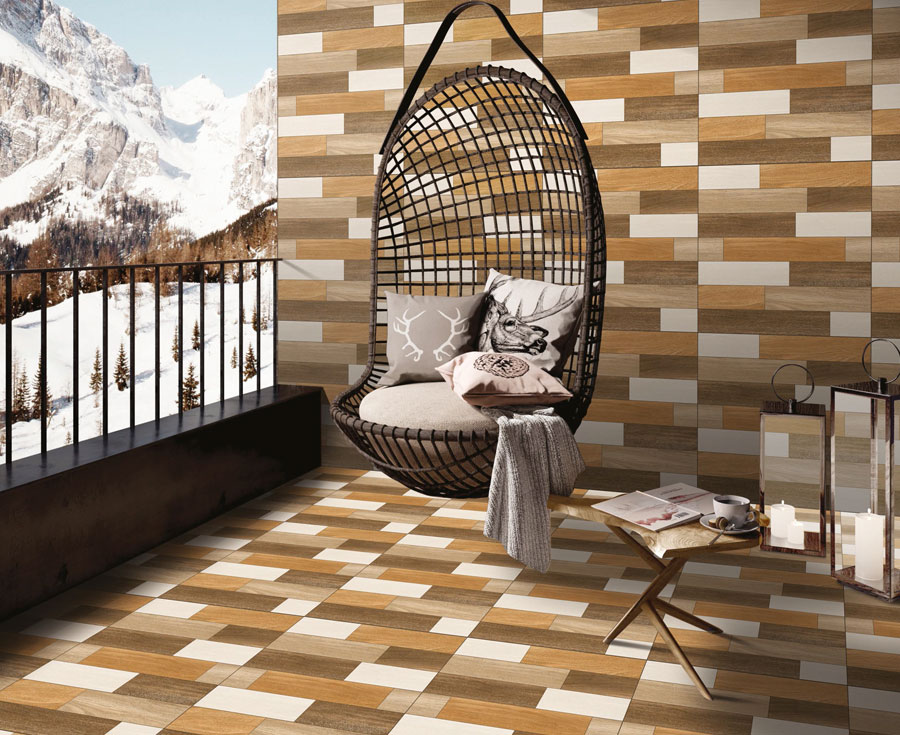 From youngsters to the elderly, a balcony is the most popular spot for drinking a morning cup of tea or coffee and resting in the fresh air after supper. The balcony flooring must be able to endure weather changes while also providing an attractive appearance to the space.
Wooden strip tiles have brilliant colors, patterns, and designs that can transform your balcony and give it a modern look. This tile's creative design lifts limited areas to make them more effective. It is a wonderful options for a balcony as they give natural and rustic vibes.
4.
Outdoor Floor Tiles for Porch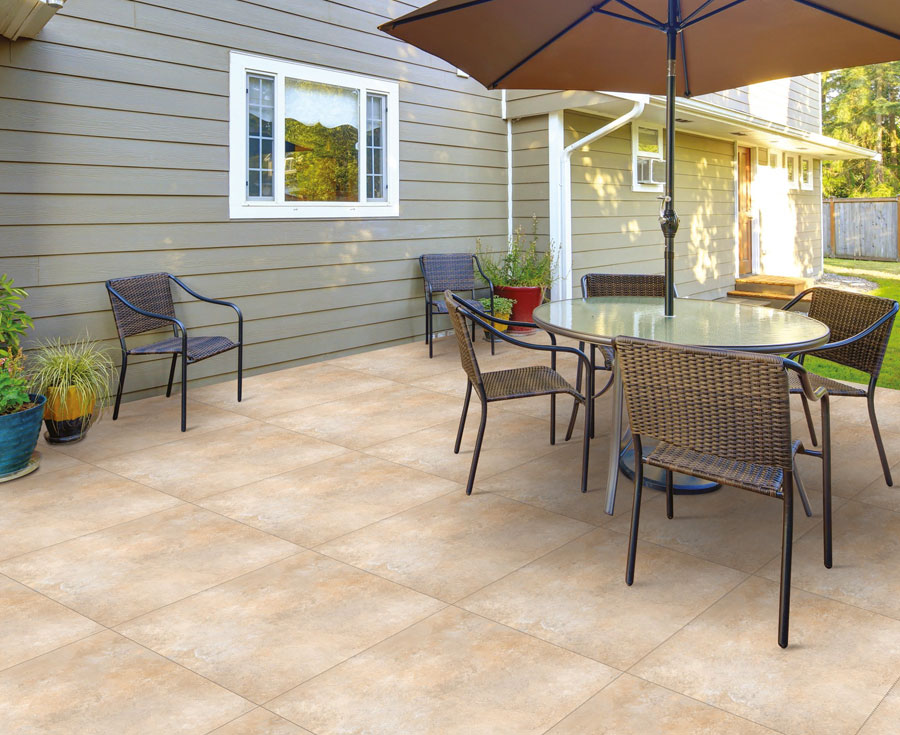 Matt Finish floor tiles for outdoors offer the porch a delightful and radiant appearance. When set on the porch floor, these tiles simply offer traditional and rustic look. The tiles are available in a range of natural color tones and are highly resilient to harsh weather conditions and may thus be used for an extended period of time. Matt floor tiles are resistant to moisture, stains, fungal development, and water.
Its designs also have a spectacular natural marble-like look that can transform your porch into a more modern, breathtaking, and ultra-luxurious oasis.
5.
Outdoor Floor Tiles for Parking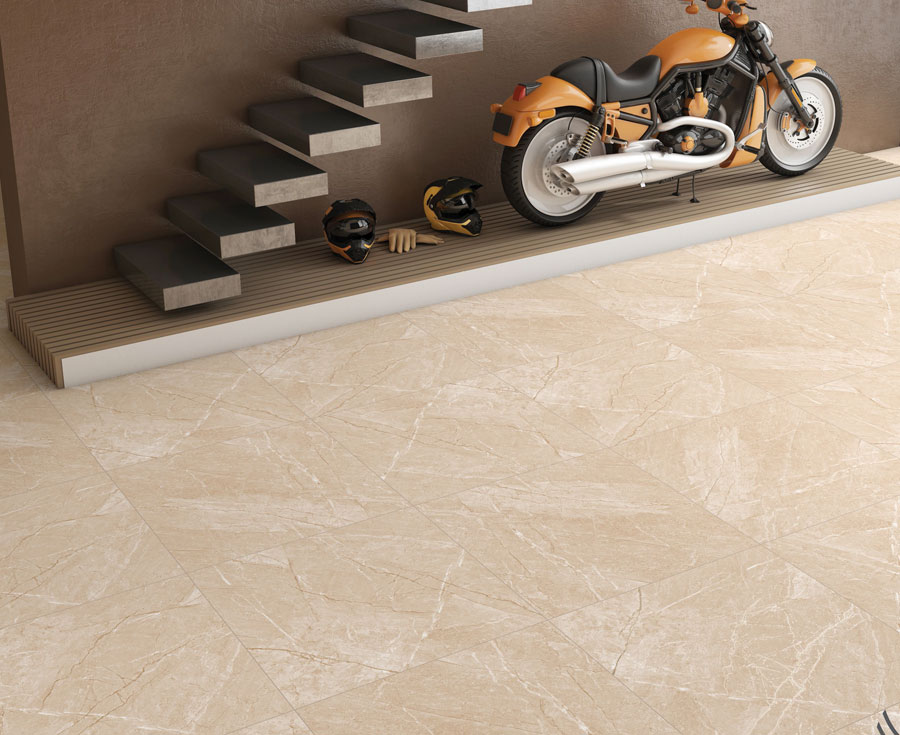 Tiles used in parking play an important role in the safety of any vehicle. To avoid accidents, the parking tile must be slip-resistant and robust. These tiles must be extremely resilient and should withstand the impact of sharp or heavy items as well as vehicles.
Fusion Floor tiles are anti-slip tiles that are ideal for parking spots. It can withstand tremendous pressure, provide strength, and withstand heavy traffic. These tiles come in a wide variety of colors, styles, and patterns. They are well-known for being cost-effective, making them a popular choice in the market. These floor tiles can be used to make parking more durable and ravishing.
So these are the most popular outdoor floor tiles that can make your outdoor area beautiful and long-lasting. This takes us to the end of our list of the greatest floor tiles for outdoor and their applications. If you plan to renovate your outside area or build a new home, you should consider the outdoor floor tiles described above.
Graystone Ceramic, situated in Morbi, is a prominent porcelain tile manufacturer. We are highly recognized not only in the domestic market but also in the international market. Check through our extensive collection to learn about the various finishes and sizes of our tile.