Wooden Strip Tiles – A Perfect Flooring Solution For Living Room
Wooden strip tiles are perfect for your living room as it is durable & has many patterns & sizes. To know the qualities of wood strip tiles, check our blog.
Thanks to advancements in technology and new materials, we now have a diverse range of flooring tile options to pick from. For example, we now have matt finish tiles, fusion surface tiles, stone look tiles, wood floor tiles, Indian look tiles, and wooden strip tiles, to mention a few.
Each of these tiles has its own uniqueness, capabilities, and limitations, allowing them to be used in multiple settings. This blog will explain why wooden strip tiles are an excellent choice for living room flooring.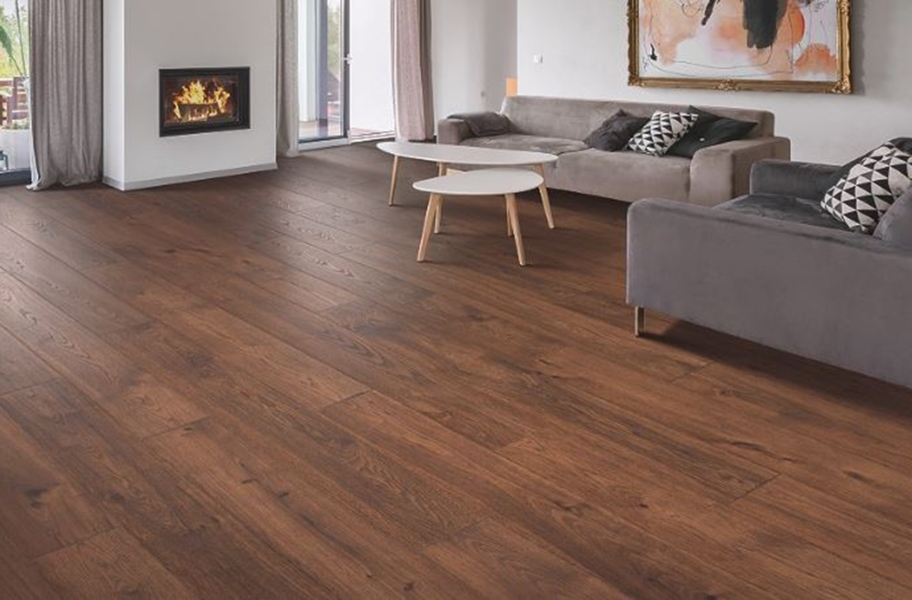 Why Should You Choose Wooden Strip Tiles For Living Room?
There are numerous advantages to prefer wood strip tiles over others, including their spectacular appearance, ease of installation as compared to natural wood, lower cost than wooden flooring, maintainability, and durability, among others. Let's take a quick look at each of these aspects.
One of the most important reasons to choose wooden strip tiles is their durability. Durability is, of course, an important factor to consider when selecting floor tiles for the living room. Since these tiles are formed of porcelain materials such as Kaolin clay and others, they have all of the benefits that these materials have to offer.
Higher durability eventually extends its life span and lowers the need for frequent maintenance. Moreover, unlike natural wood flooring, these tiles are chemical resistant, weather resistant, and water-resistant. All of these qualities of wooden strip tiles improve their durability and make them an excellent choice for living room flooring.
2.
Multiple Patterns & Sizes
Another reason to choose wooden strip tiles is the diversity of patterns, colours, and sizes it offers, which natural wood flooring does not. When you buy wooden strip tiles, you will have access to a wide range of attractive patterns and sizes to choose from based on your needs.
There are sizes such as Porcelain tiles 600x600mm or Porcelain tiles 60x60cm, as well as colours such as light brown, beige, and so on. This broad variety will ultimately enable you to select the best colour, pattern, and size to complement your theme.
Another important reason to choose wooden strip tiles for the living room is their ease of installation. You can install these tiles in the same manner as you would any other tile. On the other hand, natural wooden flooring is more difficult to install since the size of the wood might be large and requires more care during installation.
Moreover, natural wooden flooring is suitable for installation on the ground or first floor. However, the installation becomes increasingly difficult as your building rises in height since you must carefully lift each piece to that storey. Overall, the ease of installation of wooden strip tiles is another reason to use them in the living room.
4.
Looks Absolutely Beautiful
Without question, one of the most important aspects that entice homeowners and designers to choose wooden strip tiles is their beauty. The wood tiles appear very magnificent and add a rich look to your space. Also, the printing on these tiles is so flawless that you can't set them apart from real wood. It will have the same appearance as real wood.
Moreover, the multiple colors and patterns of these tiles allow you to select the appropriate colour or design that complements the surrounding décor perfectly. Also, the availability of multiple sizes, such as porcelain tiles 600x600mm, expands the collection further and contributes to the overall aesthetic of your space.
5.
Affordable Than Wooden Flooring
Another reason why you should choose wooden strip tiles for the living room over raw wood is cost. Natural wood is not only rare and expensive, but it is also harmful to the environment. On the other hand, Wooden strip tiles can be mass-produced in the same way as other tiles; therefore, there is no shortage.
A sufficient supply also ensures that the pricing stays affordable at all times. Not only is the product price lower, but the installation cost of wooden tiles is also lower than that of natural wood. So, if you're on a low budget but want to replicate a wooden look, wooden strip tiles are the way to go.
6.
Minimal Maintenance & Care
The lifespan of any product, including wooden strip tiles, is determined by how well it is cared for. Natural wood flooring, for example, will want regular care. You must clean it on a regular basis, keep it dry, and protect it from damage, as even minor damage will cost you a lot of money.
Wooden strip tiles, on the other hand, are simple to care for. It does not necessitate any specific treatment, and you have to simply clean and maintain them in the same manner as you would any other living room floor tile. Moreover, if you break or damage a tile, you will be required to replace that specific tile only rather than the entire floor, as is the case with natural wood.
7.
Capability To Sustain Weather Odds
Another reason to choose wooden strip tiles for your living room is their ability to withstand weather conditions. Since most of the region has more than one type of weather throughout the year, you'll need tiles that can endure all of the temperatures and rainfall. Unfortunately, natural wooden flooring cannot resist the wet season or extreme temperatures.
On the other hand, Wooden strip tiles can survive all weather conditions, including winter, monsoon, and summer. Moreover, their water-resistance character allows them to be used in multiple settings and prevents them from being damaged or decaying by water.
If you are facing a problem in choosing floor tiles for your living room then you can check our blog: How To Choose The Best Floor Tiles For Living Room? All these qualities explain why you should choose Floor tiles for your living room.
Read our other blogs to learn more about the benefits, types, and qualities of porcelain tiles.
Graystone Ceramic is a porcelain tile manufacturer based in India that combines extensive knowledge, technological innovation, and time-tested procedures to make high-quality porcelain tile products. The company is well-known for its innovation and has a significant global presence. To understand more about their products, proficiency, and policy, visit our website.