Top 6 Design Ideas of Floor Tiles For Living Room
The living room is the primary area in your house where you and your family gather to watch TV, socialize, and relax. It is also the place where you showcase your most valued things, such as paintings and antique furniture. Because it is such an essential space, it is critical to select floor tiles for living room design that will last for many years.
Tiles may provide a polished touch to your living room by providing a sophisticated, low-maintenance, and easy-to-clean flooring alternative. The possibilities are boundless with so many living room tile designs to pick from.
Tiles have been around for decades and have remained popular because of their durability, ease of cleaning, and attractive appearance. There are various tile and flooring options for your living room flooring. Here are some unique tiling ideas for the living room that will never go out of style.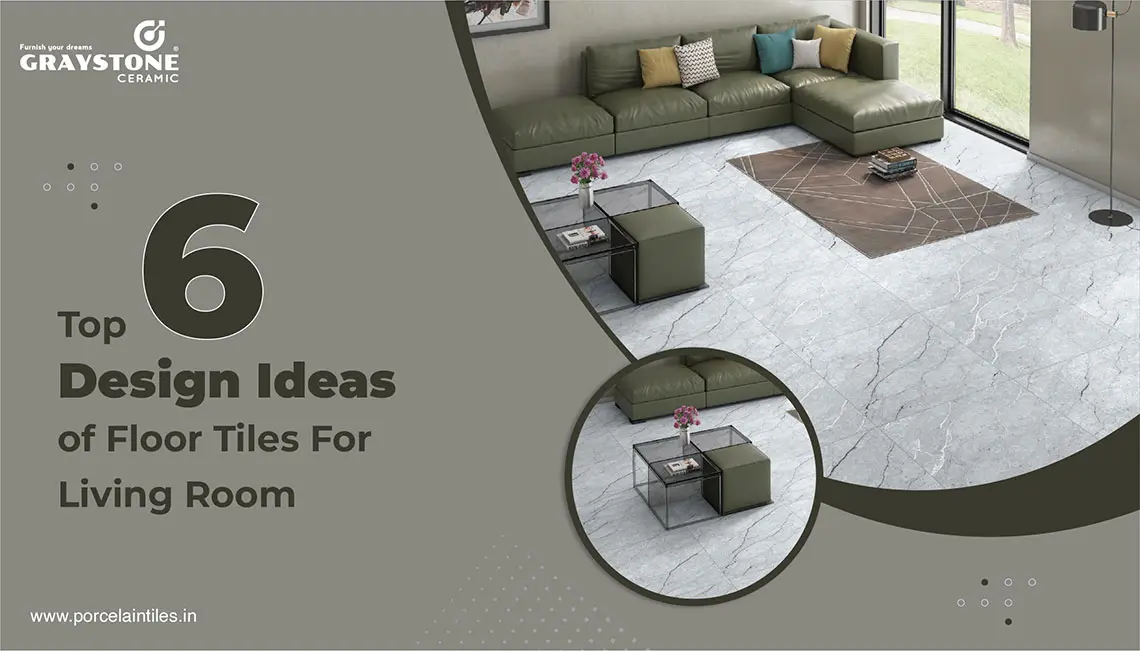 6 Stylish Living Room Floor Tiles Design Ideas
There are many different types of floor tiles for living rooms to pick from, so deciding might be difficult if you don't know what to look for. Here are six popular floor tiles for living room ideas and styles that can enhance the appearance of your home space.
Smoky colored floor tiles for living room perform well on their own because of their vast range of hues, but it's also a terrific tone for letting vibrant colors pop! Dark and light grays give contrast to a living room environment. These tiles' muted and gentle colors will offer a basic yet elegant touch to your home. Furthermore, these tiles are stain- and scratch-resistant, making them simple to keep clean.
2.
Use Wooden Strip Design Tiles
The living room with wooden strip tiles are always in trend. This tiles flooring gives you the illusion of genuine wooden strip without the bother of upkeep. They are less likely to be broken and easy to clean. This will decrease your cleaning and maintenance expenses over time. Furthermore, because wooden strip tiles are so robust, they may last for decades and also become a low-cost flooring alternative.
3.
Add Some Sophistication
White light tiles are a timeless choice for living rooms. We can refresh our outdated living room floor tiles by using this lovely light design tile. This floor tiles complement the present furnishings and decor in the living room. These floor tiles are architectural treasures that may be utilized in a variety of settings. The most obvious advantage of employing such floor tiles for living room is that it improves your mood and will help your brain feel at ease.
4.
Include Some Earthiness
Some people want an earthy ambiance in their living room floor tiles. Installing stone or earthy look porcelain tile will give your living space the ideal atmosphere. Our stone look porcelain tile may make your house seem like a natural paradise. It is influenced by genuine stone, and these tiles convey the rough appeal of actual stone without the brittleness. They are strong and long-lasting. It is not as slippery as high gloss tiles, making it a good choice for households with childrens.
5.
The Look of Natural Wood
The wood floor tiles for living room are one of the most popular tiling options of all time. Wood tile flooring gives you the beauty of genuine wood without the hassle of maintenance and frequent cleaning. These tiles are far more resistant to scratches, spills, and grime. So, once installed, these tiles will look great for years to come. Wood floor tiles do not absorb water easily, which makes them very easy to keep clean. It is also very adaptable and much more affordable than real wooden flooring.
6.
Tiling With Terracotta
Top designers frequently utilize terracotta and warm-toned tiles when selecting stunning floor tiles for living room. Terracotta tiles are a modern household option that may give your home an outstanding appeal. It is extremely long-lasting and scratch-resistant. Terracotta tiles are excellent for passive heating and cooling of houses, and also provide greater natural temperature management than nearly any other material.
With so many fantastic floor tiles for living room ideas on the market, there's no better time than now to start thinking about giving a new look or upgrading your living room with some new tiles and designs. When it comes to choosing the most suitable floor tiles for living room, this blog will assist you in finding the finest one for your area.
Graystone ceramic is a prominent and leading porcelain tile producer in India. We create a diverse selection of porcelain tiles in a variety of finishes and patterns. Advanced technological support, world-class infrastructure and production capacity, and field knowledge are some of the aspects that enable us to offer the best tiles at an accessible price.