7 Remarkable Perks of Porcelain Floor Tiles For Living Room
The tile business has experienced a tremendous expansion along with the revolution in the construction industry. Porcelain tile instantly comes to mind while discussing tiles. Porcelain tile is regarded as being superior to traditional ceramic tile because of its strength, durability, and beauty. Porcelain tiles are considered as being excellent floor tiles for living room and other spaces.
Porcelain tiles are created from many of the same components as other types of tile flooring, while porcelain tiles go through an advanced production process and have additional benefits as a result.
In addition to informing you about the attributes of floor tiles for living room, our list of 7 advantages will also persuade you why porcelain floor tiles are the finest choice for living room flooring. Let's start now.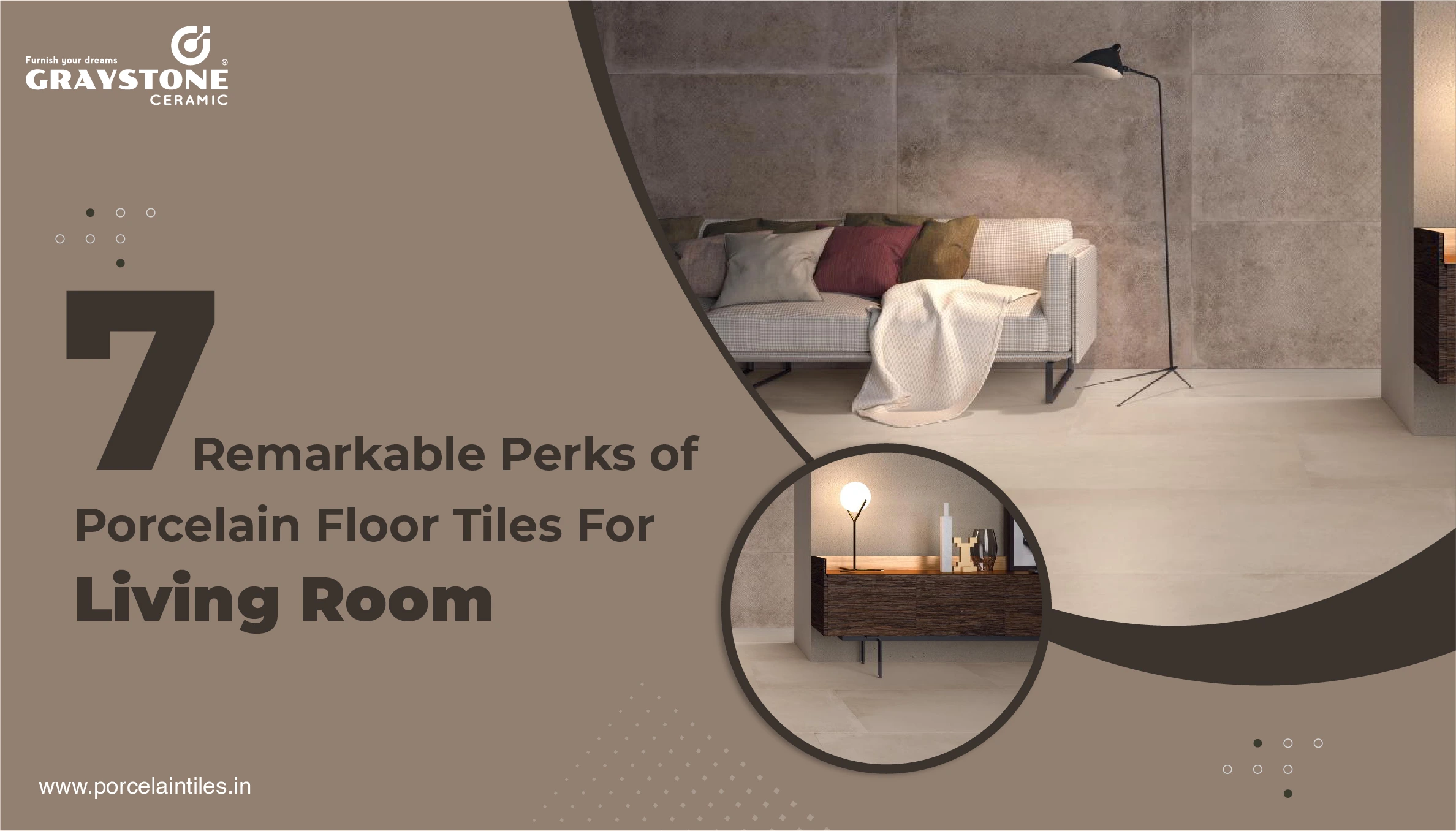 7 Advantages of Porcelain Floor Tiles for the Living Room
Here are the top 7 noteworthy advantages of porcelain floor tiles for living room. Let's take a short look at each of them.
1.
Extremely Durable and Long-Lasting
Durability is among the most significant benefits of porcelain floor tiles for living room. One such tile is meant to endure longer than most other flooring tile types now available because it is constructed of highly refined clay that has been burned at higher temperatures.
Furthermore, the resilient porcelain floor tiles for the living room are made using cutting-edge production techniques. In addition, it operates superbly in busy streets and even in commercial areas. Porcelain tile is one you should give attention to using since it is both lasting and isn't hard to care it.
Another benefit of porcelain floor tiles for living rooms is how little upkeep they need. It is a robust material that is stain-resistant. These shouldn't need additional waterproofing, unlike certain tiles, to keep water out.
Porcelain floor tiles do not absorb water so it can be easily wiped off, making them easy to maintain. So, This tile is frequently used in moist spaces including kitchens, baths, and entranceways. It won't take much work to maintain the elegance of this tile for many years.
3.
Porcelain Floor Tiles Options
If you're looking to buy porcelain floor tiles for living room, there are several things to take into account.
When purchasing tiles, considering their size is important. Porcelain floor tiles typically come in a broad range of sizes such as porcelain tiles 600x600mm and 600x1200mm, allowing you to pick one that best suits your needs.
Porcelain floor tiles for living rooms can be imprinted with virtually any color or picture, enabling the creation of extremely complex layouts. You may create a floor that properly expresses your tastes by combining vibrant, contrasting colors with various forms and styles.
There are several different sizes and shapes of tiles available in this tiling. You may easily cut and shape porcelain floor tiles for living rooms to suit your needs.
4.
Better Than Ceramic Tile
Porcelain floor tiles are used in almost all applications, as opposed to ceramic floor tiles. These materials might be extremely uncommon or quite plain-looking. The cost is one of the key distinctions between the two solutions. However, Porcelain floor tiles are a little expensive because of their variety of features. They are less vulnerable to water damage and discoloration, they also tend to be simpler to maintain and keep clean over time. The surface layer on porcelain tiles is extremely durable and almost hard to scratch.
5.
More Moisture Resistant
Porcelain floor tiles have a moisture absorption rate of less than 0.5%, making them water-resistant. These make them suitable for damp conditions and locations that require frequent cleaning, including kitchen flooring. These tiles are more resistant to moisture intrusion, making them a more durable and dependable flooring option.
Although common and popular options, carpeting and laminated are viewed as being less hygienic than porcelain tiles. These tiles are simpler to maintain; they also don't absorb filth like carpet or moisture like laminates. Unlike laminate, porcelain floor tiles for living room are resistant to common household chemicals and may be cleaned with even abrasive cleansers.
The last thing you should be thinking about is your budget when you decide to purchase porcelain tiles to refurbish your home or place of business. In fact, porcelain floor tiles are quite inexpensive than real marble or wooden flooring and may fit into any budget, no matter how big or little. People have been using this tile in their houses because of these budget-friendly advantages.
So these are some remarkable benefits of using Porcelain Floor tiles. Due to all these benefits they offer, porcelain tiles are a great option for many areas in the house, especially in the living room. So this tile may be the perfect choice if you're seeking tiles for your house or workplace.
Graystone ceramic offers a large collection of porcelain tiles in various finishes and sizes, such as fusion finish, wood finish, matt finish, stone look, and others. Additionally, our collection includes a selection of tiles that are appropriate for a number of spaces, such as kitchens, living rooms, and bedrooms.