Porcelain tiles 600x600mm for Indian Homes?
The popularity of porcelain floor tiles is increasing and these tiles are proving to be the future trend. The porcelain tiles 600x600mm are most suitable for floors because they are big enough to provide a feeling of open space. Porcelain floor tiles are one of the most popular choices for homeowners and are readily found in the Indian market. Porcelain floor tiles manufacturers offer exclusive collections of porcelain floor tiles that offer unique aesthetics to homes.
Leading floor tile manufacturers, such as Graystone, offer high-quality and durable porcelain tiles 600x600. Customized porcelain tiles 600x600mm help homeowners create an aesthetic environment for a fraction of the cost compared to other decorative flooring options like marble.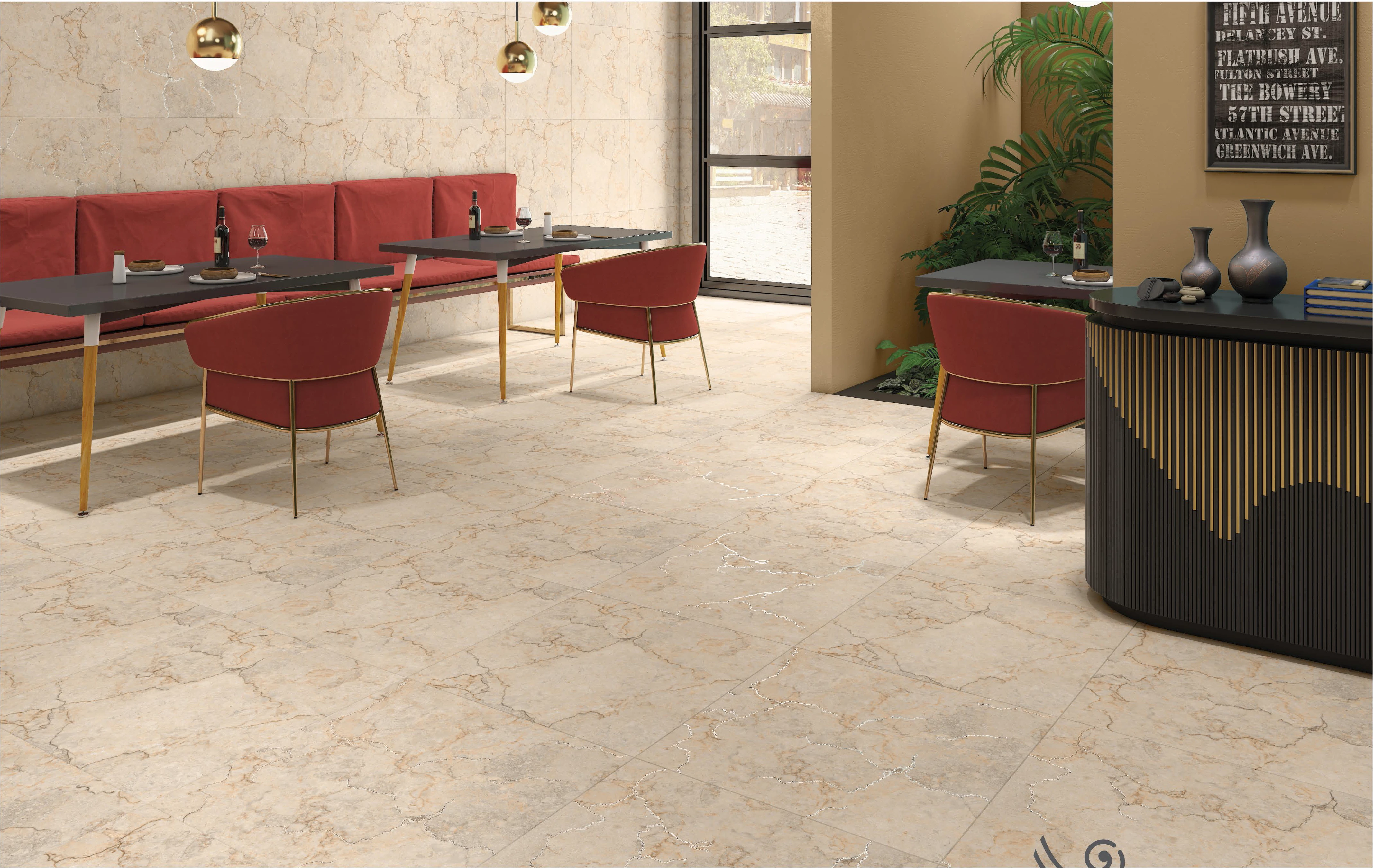 Why Porcelain Tiles 600x600mm are ideal for Indian Homes?
Porcelain floor tiles are known to be extremely durable, long-lasting, and versatile. Additionally, they are waterproof, thanks to vitrification.
Porcelain tiles offer several great features; however, the following features are the reason why porcelain tiles 600x600mm are ideal for Indian household flooring solutions:
Cost is not necessarily directly proportional to quality. At a fraction of the cost, porcelain tiles offer amazing aesthetics and qualities. These tiles are readily manufactured in India and are therefore inexpensive. Porcelain tiles are made up of 2 core components; clay and sand particles, both of which are readily available thus having a positive impact on cost reduction.
The porcelain tiles 600x600mm enhance the overall vibe of the environment by blending in with the same. the tiles are big enough to impart an illusion of open space and thus provide the room with a 'spacious' look.
InUsually, the anti-slip tile only requires a quick scrubbing with detergent. Your outdoor place becomes a low risk and minimal upkeep as a result!
Porcelain tiles require zero to very little maintenance. Porcelain tiles are packed with resistive properties that make them last long without compromising the aesthetics. These tiles are stain-resistant, scratch resistant, and water-resistant. Due to these properties, these tiles are long-lasting and do not require reinstallation or maintenance. Porcelain tiles 600x600mm can be considered as those tiles which we install once and then forget about.
The 600x600mm variant of porcelain tiles is incredibly versatile as they can complement the adjacent tiles beautifully irrespective of their size. The size is ideal for flooring solutions. Leading porcelain tiles manufacturers, such as Graystone Ceramic, offer a wide variety of designs and patterns for porcelain floor tiles that are visually appealing and durable. The fact that these tiles can complement the surrounding environment makes them one of the most popular choices for homeowners for flooring solutions.
5. Provides a uniquely luxurious feel:
Porcelain tiles are available in a ton of different designs and patterns. Floor tiles manufacturers, such as Graystone ceramic, offer a wide range of selection that enhances the vibe of the home by imparting a personal touch or character. These tiles are luxurious looking and meet the requirements of homeowners which is why they are considered the ideal porcelain floor tiles for Indian households.
Are Porcelain Floor Tiles Worth it?
After carefully examining the above-mentioned advantages of porcelain floor tiles it is safe to conclude that these tiles are worth installing in modern, vintage or any type of Indian households. Porcelain floor tiles 600x600mm are suitable for flooring solutions with trendy and innovative designs. These tiles enhance the vibe of the surroundings and give a luxurious look to the place. Porcelain tiles also offer quite a lot of features that make them a 'bang for the buck option.